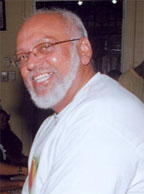 It has not yet been decided whether the PPP's presidential candidate for general elections will be selected by secret ballot.
Questioned on whether the party's candidate will be selected by secret ballot, PPP General Secretary, Donald Ramotar at a press conference yesterday, said he did not know. "All the Presidential candidates and Prime Ministerial candidates that we've had before, we never had a secret ballot for that so I would not be able to comment on that. The meetings themselves will decide on these issues", he said.
Asked whether an open vote would be an inhibiting factor for members, Ramotar said that he doubted it would inhibit anything. "Why should it inhibit anything? We have had a tradition of all kinds of voting in this party. Our party is not a party where people should feel inhibited or afraid of nobody. What kind of party would we have if people are afraid to express their opinions and views in the party? Then we won't have a properly functioning organization at all so I don't see that that's a problem", he said.
Speaker of the National Assembly and presidential hopeful, Ralph Ramkarran, in a letter to Ramotar indicating his desire to be the party's presidential candidate, laid out his expectation that if there is more than one nominee for the position, that there will be a secret ballot to select the candidate.
Around the Web