Altaf Hoosein, the community policing group member who was stabbed on Tuesday evening, is now a patient of the High Dependency Unit of the Georgetown Public Hospital.
Hoosein, 30, of Cornelia Ida, recalling the incident, said that he was in Anna Catherina drinking with friends when he received a call from his estranged wife to deliver their three children to her. He said he took the children to the woman and an argument soon ensued.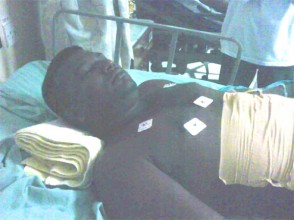 Hoosein said during the argument the woman's boyfriend and another male got involved.
A fight soon broke out between him and the men and it was during the fight that he was stabbed by the woman's boyfriend.
After he was stabbed, Hoosein was rushed to the Leonora Cottage Hospital by a cousin, Aftab Hoosein. Hoosein's relatives were upset with the treatment he received. They said that at the hospital they had to wait nearly three hours because the hospital did not have an ambulance.
Eventually taking a taxi to the West Demerara Hospital, the family again encountered difficulty getting an ambulance.
According to an aunt, there was no driver and when one was finally available the nurse on duty had refused to travel to Georgetown in the ambulance.
Hoosein's attacker has not been captured as yet, the family said.
Around the Web