PARIS/ABIDJAN, (Reuters) – The World Bank froze  funding to Ivory Coast yesterday and presidential claimant  Alassane Ouattara's top aide called on world leaders to consider  force to oust incumbent Laurent Gbagbo.
Gbagbo has refused to quit after a Nov. 28 vote that the  electoral commission,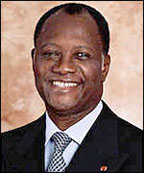 African countries and Western powers say  he lost to Ouattara, sparking a dispute that has killed 50  people and could rekindle civil war in the West African state.
With intensifying diplomatic pressure having failed to move  Gbagbo, the prime minister of Ouattara's rival government,  Guillaume Soro, said the "only solution" to the crisis was for  world leaders to use force to oust him if other measures fail.
The U.S. State Department said world powers would consider  bolstering the existing U.N. peacekeeping force there.
"It could be that that kind of reinforcement would be  another way to send a message to President Gbagbo," State  Department spokesman P.J. Crowley said at a news briefing.
France advised its 13,000 citizens now in its former colony  to leave as the risk of conflict grows.
Germany and Britain also advised against travel to the  country and urged citizens to leave, a day after Nigeria  evacuated diplomatic staff following an attack on its embassy.
World Bank head Robert Zoellick said funds for Ivory Coast  had been cut off, a move to squeeze Gbagbo financially.  According to the World Bank website, the global lender has aid  commitments to Ivory Coast of $842 million as of January 2010.
"They have already been frozen," Zoellick said in Paris.
A World Bank statement added: "The World Bank (supports) …  the message to President Gbagbo that he lost the elections and  he needs to step down."
It is not clear whether any nations will heed Soro's call  for intervention, but the success of such a move would depend on  the level of resistance likely to be shown by the army, which is  seen as divided.
Ouattara's camp and the European Union have sought to widen  those divisions by calling on the military to back Ouattara.
In an address on state TV on Wednesday night, army spokesman  Babri Gohourou sought to dispel rumours of a divided army.
"There is no doubt about the cohesion as perfect brothers in  arms of the security and defence forces," he said. "(We) also  reaffirm our unfailing attachment to the president."
The European Union and the United States have imposed  sanctions on Gbagbo and key supporters to force him to go, and  African countries have offered him a soft landing in exile.
But Gbagbo has shown no sign of caving in to the pressure  and on Tuesday he invited an international committee to  re-examine the results of the vote, a move that a Ouattara  spokesman dismissed as a delaying tactic.
"For the past five years he tried manoeuvres to postpone the  elections. Finally we got there, he lost, and he doesn't want to  give up power," Patrick Achi, a spokesman for Ouattara's rival  government, told Reuters by telephone yesterday.
The turmoil in the world's top cocoa-producing country has  boosted cocoa prices to recent four-month highs, disrupting  export registrations and raising the spectre that fighting could  block transport and shipping.
Provisional results from the poll showing Ouattara with an 8  point victory in the election were validated by the United  Nations but overturned by Ivory Coast's top legal body, headed  by a staunch Gbagbo ally, on grounds of alleged fraud.
The United Nations Security Council this week defied Gbagbo  by extending the mandate of its 10,000 strong force.
Hundreds of the peacekeepers are protecting an Abidjan hotel  where Ouattara set up his headquarters, and U.N. Secretary  General Ban Ki-moon accused Gbagbo's forces of blockading it.
Around the Web