(Barbados Nation) It will be a bleak Christmas for more than 100 children who will not have an Auntie Olga Christmas party this year.
The annual party hosted for scores of children and families for many years has been called off due to the illness and hospitalisation of Dame Olga Lopes-Seale.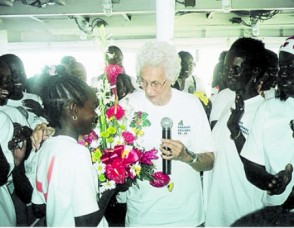 She is now a patient in Ward 3 of the Queen Elizabeth Hospital (QEH), recuperating after successfully undergoing surgery on a broken hip sustained during a fall at her home three weeks ago.
One of the people who has assisted the dame in her charity work and with organisation of the  children's Christmas party told the Sunday Sun the accident had forced Dame Olga to cancel the party and suggested the future of her charity work was uncertain. Nonetheless, 52 families will still receive the gift voucher and ham customarily given by Auntie Olga.
Also standing to suffer as a result of the humanitarian's illness are those children who every year receive assistance with school supplies through the Needy Children's Fund. Word is that there are plans to donate existing monies in the fund to another children's charity.
Meanwhile, Dame Olga celebrates her 92nd birthday today, is resting comfortably in the QEH. She said she would certainly miss the activity with her needy children but was full of praise for the care given by nurses and doctors at the hospital.
Around the Web