The Ministry of Health yesterday received 250 children and adult wheelchairs along with walkers, crutches, ferrules and canes.
The wheelchairs were presented to the Health Ministry by members of the Church of Jesus Christ of Latter Day Saints at the Ministry's materials management unit, Kingston.
According to the Government Information Agency,      Minister of Health, Leslie Ramsammy noted that being disabled is a major health challenge since persons with disabilities are unable to freely access services provided.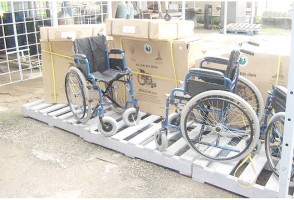 Next year, according to GINA,  the Ministry will be establishing a wheelchair repair shop. For this initiative the Ministry will be employing persons with disabilities to repair the chairs.
The Ministry is also working on establishing a disabilities registry to help the Ministry to effectively attend to the needs of those persons.
This initiative requires the assistance of the private sector, schools and families.
Apart from the passing of the Persons with Disabilities Act the Health Ministry has also been able to provide transportation for persons in the city, particularly those seeking health services, attending school and accessing services at the Ministry of Human Service and Social Security, GINA said.
The Health Ministry is also working with a Non-Governmental Organisation (NGO) to develop a sign language curriculum. This effort will facilitate training for 10 to 12 persons who will be instructors and are expected to train more persons.
The Ministry is to also make available a vehicle which will be outfitted with the amenities to provide screening for persons with hearing inconsistencies, GINA said.
Around the Web