"Christmas would be dead for me," Rakesh Seegobin said as he was still trying to cope with the death of his reputed wife Rebekha Chinamootoo.
Rebekha died at the George-town Public Hospital after giving birth to a healthy baby boy, Jordan Jonathan Seegobin, at the New Amsterdam Hospital (NAH) on September 18.
The couple also had a six-year-old daughter, Shania Lydia Seegobin, who lives with Rakesh at his Belvedere home.
Rebekha's mother, Minett Chinamootoo, 45, of Number 36 Village, Corentyne is taking care of the now three-month-old baby Jordan.
Seegobin who is attached to the Region Six administration as an excavator and backhoe operator at Whim's Hydraulic told Stabroek News that when he learnt his wife had died he "could not move."
He had lived with his wife of seven years and daughter at Number 35 Village, but moved back to Belvedere, Corentyne after her death. He said he would have been happy to have his son with him but he is unable to take care of him now.
"It is very sad losing my wife. Every day I think about her and I cry a lot. I cannot get over that [her death] for now – to know that I spent so long with her," Seegobin said.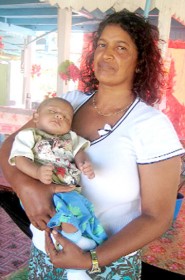 "Christmas used to be very special for us. Every year we enjoy it but this Christmas would be a sad day for me and probably all the Christmases."
On Christmas Day he plans to visit Rebekha's grave "and place a rose on it and talk to her a little bit and then spend the rest of the day with my daughter." He would also visit his baby.
He recalled that Rebekha had gotten a chart from the "high risk clinic" saying that she could only deliver her baby by caesarean section and she showed it to the nurses at the NAH, but they did not pay heed to it at first.
Rebekha had also given birth to her daughter by c-section at the NAH and had no problem. In fact, "from the next day she was strong," he said.
He said his wife told him the nurses tried to get her to deliver naturally "but she could not get passage." Around 6.30 pm they finally decided to take her to the theatre.
He said his wife came out of theatre around 7 pm and although they waited to see her and even "begged the nurses" their request was denied and they were sent home.
Around midnight the nurses called to say that she had been transferred to the GPH. She had developed complications and was bleeding heavily.
Seegobin and his in-laws left for the GPH the next morning thinking she was "alive and happy, not knowing she was in the freezer." He was shocked when he learnt that she had died.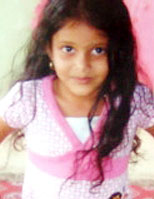 "It is very hard when you love someone and you have to lose them like that," he said. "We used to live loving. Weekends we cooked together and I even did most of the cooking."
On Sundays, Seegobin goes to church and takes his daughter with him and knows that "God would help me through all my pain."
He is eagerly awaiting the report on the investigations and hopes the health system would improve so no more lives would be lost.
Minett Chinamootoo told this newspaper she gave up her job walking and selling cosmetics and clothes to care for her grandson "full time."
Although it is "very hard and stressful on me" especially with her arthritis pain she said she and her husband, a cash crop farmer, "are trying by the grace of God. We  are true Christians and we trust the Lord."
She said, "Every day the baby bringing tears to my eyes because I would remember my daughter and grieve for her."
Minett said Rebekha used to make the Christmas "bright. We always used to spend it together." But this year it would be a "sad day for me. She loved to cook and she would do all the cooking on Christmas Day."
According to her, "This pain cannot come out of me; I would live with it for the rest of my life. She was a loving daughter to me."
Further she said: "I worked hard to mind my [four] children. I used to do fishing work with my husband. We used to leave home at 12 in the night just to send them to school." One of her children, Cliff Chinamootoo, was stabbed to death five years ago.
She recalled that when Rebekha was at the last stage of her pregnancy "she would put on the fan in my room and say 'mommy, leave the work and come and lie down with me' to gaff."
The woman who insisted that the hospital staff delayed performing the c-section said the results of a post-mortem examination confirmed that she bled to death.
Around the Web