More than ten persons, including two children, were left in shock, tears and great distress last night after a fire ravaged two Bagotstown houses.
Both houses, which were located in the same Lot 31 Norton Street, Bagotstown, East Bank Demerara yard, were destroyed by a fire which started shortly before 10pm. It is suspected that the fire may have started from a "sparking" electrical wire.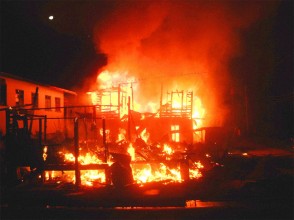 One of the houses faces the East Bank Demerara double lane highway and firefighters were forced to close a section of the road in their attempts to contain the blaze. The nearby fast food restaurant KFC, located a block away from the fire, also shut down operations.
Tessa Benjamin, who lived in the front house where the fire began, was in tears when Stabroek News arrived at the scene around 10pm. "Ow, ow, ow Lord is everything gone," Benjamin was heard screaming.
Her son, Mark, told this newspaper that his aunt and two minors were at home (in the front house) when the fire started. The man said that he learnt from his aunt that the wire from a Guyana Power and Light (GPL) utility pole was seen sparking and shortly after flames were observed coming from the front southern corner of the house.
Just over two months ago, the man explained, a car had slammed into the same electricity pole. After the impact, GPL workers had checked the post and done some work on the wires but they remained faulty. "After the car hit that post them wire used to spark in and out all the time," Mark said.
The man said that he was in Georgetown when he got news of the fire. By the time he arrived at the Bagotstown location, his house was already destroyed and the second house was almost gone as well. Both structures, Mark reported, were made of wood and concrete. "We didn't get to save anything," the man said. "Tomorrow is Christmas and we got nothing."
Meanwhile, the man also raised concerns about the response from the fire services. Relatives, Mark said, told him that after the fire was reported it took some time before the fire tenders arrived. "The front house de already gone by the time these fire people show up and then when they do show up they had a water shortage," the man said.
More than an hour after the flames erupted at the Bagotstown location, fire fighters were finally able to put them out.
The side of a two storey building, which houses a Chinese restaurant on the ground floor, was also scorched.
Around the Web