ABIDJAN/ABUJA,  (Reuters) – West African heads of  state threatened yesterday to use force to oust incumbent Ivory  Coast leader Laurent Gbagbo unless he cedes power to a rival  widely credited with having won a presidential election.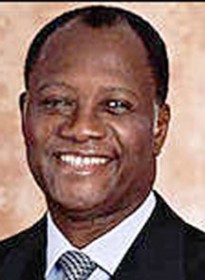 A violent stand-off over the result of the vote has killed  nearly 200 people and threatens to tip the west African state,  the world's top cocoa producer, back into civil war.
After a meeting in Nigeria to discuss the Ivory Coast  crisis, leaders of the regional bloc ECOWAS said they would send  an envoy to tell Gbagbo, who has been president for a decade,  that he must step down or face "legitimate force".
World powers and African states have heaped political and  financial pressure on Gbagbo to relinquish power after the Nov.  28 vote in which electoral commission results showed he lost by  8 points to rival Alassane Ouattara.
"In the event that Mr Gbagbo fails to yield this imputable  demand of ECOWAS (to stand down), the community will be left  with no choice but to take other measures, including legitimate  force," a communique released by ECOWAS said.
The 15-nation West African bloc also said it would convene a  meeting of member states' defence chiefs of staff to plan for  potential action, should Gbagbo not bow out.
The United States and European Union have imposed travel  sanctions on Gbagbo and his inner circle, while the World Bank  and the West African central bank have cut off his funding in an  attempt to pressure him to step down.
But Gbagbo has shown no sign of caving in. He insists he won  the election after the Constitutional Court, which is headed by  one of his allies, threw out hundreds of thousands of votes from  pro-Ouattara constituencies.
The standoff turned violent last week after brief gun  battles between government soldiers loyal to Gbagbo and rebels  who now back Ouattara.
Residents of pro-Ouattara neighbourhoods have said masked  gunmen are now breaking into homes by night, kidnapping and in  some cases killing people.
A statement issued by the United Nations mission in Ivory  Coast said on Thursday masked supporters of Gbagbo armed with  rocket launchers had been blocking a road to Anyama, near  N'Dotre, which it said was "a village outside Abidjan where  allegations point to existence of a mass grave".
The U.N. Human Rights Council issued a declaration,  initiated by African member states, condemning rights violations  in Ivory Coast and called for reconciliation to avert civil war.
The impasse between Gbagbo and Ouattara has caused the  deaths of more than 170 people, according to the council.
Gbagbo also faces a cash crunch that could make it hard for  him to continue paying the wages of soldiers who back him, after  the West African regional central bank cut his access to funds.
Ministers from the Central Bank of the West African Economic  and Monetary Union said on Thursday that the bank would no  longer recognize Gbagbo's authority, and that access to funds  would only be given to Ouattara's "legitimate government".
On Wednesday, the World Bank decided to freeze some $800  million in committed financing, strengthening expectations that  Gbagbo may soon struggle to pay wages — including to troops.
Military support for Gbagbo is regarded as one of the main  reasons he has been able to defy calls to step down.
Gbagbo's finance minister, Desire Dalo, did not comment when  reached by telephone late on Thursday. A spokesman for  Ouattara's government said the decision by the central bank was  "a very important move toward controlling the economic power."
Ivory Coast's $2.3 billion bond due in 2032 fell to a record  low on Thursday as investors worried that the country would not  meet a $30 million bond payment on Dec. 31.
The turmoil in Ivory Coast has thrust cocoa prices up to  recent four-month highs, disrupting export registrations and  raising fears that fighting could block transport and shipping.
RISK OF WAR
Charles Ble Goude, leader of the powerful pro-Gbagbo "Young  Patriots" movement, warned that sending in a military  intervention force could rekindle war in Ivory Coast, which is  still partitioned from a 2002-03 civil conflict.
"In a union such as ECOWAS, when one country is in  difficulties, you don't come and start a war in that country,  but try to help find a solution. I don't know what would be the  objective of an intervention force. Kill Ivorians?" Ble Goude  said in an interview on RFI radio.
In New York, the 192-nation U.N. General Assembly recognised  Ouattara by unanimously deciding that the list of diplomats he  submitted to the world body be recognised as the sole official  representatives of Ivory Coast at the United Nations.
That appeared to bolster Ouattara's claim to be the  legitimate leader of Ivory Coast and deepened the isolation of  Gbagbo, who has few supporters across the international  community, U.N. diplomats told Reuters.
The United States, United Nations, European Union, African  Union and ECOWAS have all recognised the provisional electoral  commission results showing Ouattara as the winner. Washington  and Brussels have imposed sanctions on Gbagbo and his coterie.
Deteriorating security in the former French colony led  France this week to urge its 13,000 citizens there to leave.
The Dutch Defence Ministry said yesterday it was sending a  warship to Ivory Coast that could be used to help evacuate  European expatriates if violence escalates.
Around the Web