When 26-year-old Monica Carmichael of Number 30 Village, West Coast Ber-bice learnt she was pregnant with her second child she was elated, but she died following surgery to remove the baby which also died.
She had planned to enjoy her Christmas holidays with her relatives but now there would be no Christmas for them because "Christmas has no meaning for us this year," they said
During an interview with Stabroek News, an aunt, Marsha Carmichael said they had lost a very special member of the family and have still not got over her death.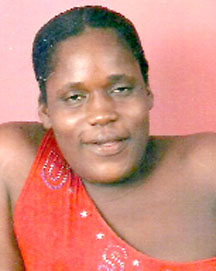 In tears, she said, "We are not a rich family and even if we wanted to celebrate, the little money we had was used on her burial."
The woman said her niece was a "healthy and strong person and her death was a shock to all of us." In fact, Monica's mother, Debra Joseph who suffers from a nervous condition, is still in shock and became badly depressed after her daughter's death.
She is not in a condition to look after Monica's four-year-old daughter, Mya Malika Carmichael and the child is in the care of her other grandmother. Monica had spent four years in Antigua and gave birth to Mya while she was there.
Monica's sister, Sabita Carmichael told this newspaper that her sister was admitted to the New Amsterdam Hospital on November 12 during her eighth month, but was not at all worried that anything would go wrong.
Around 1 am the following day (November 13) she was transferred to the Georgetown Public Hospital (GPH). She phoned Sabita the next morning to tell her she was at the GPH.
Monica also said that the doctors were not finding any heartbeat and were trying to save the baby. She said too that they "wanted to try one more time before performing surgery."
Her aunt, Marsha, also related that "the doctor told me that she had two seizures. They controlled one but could not control the other one."
On Tuesday November 16, after two days had elapsed the surgery was performed. The woman never emerged from theatre until the following day and relatives were told that she had to remain there because the "maternity ward did not have enough beds."
Later that day they learnt that she had died. They said the post-mortem report showed that she died from a "clot which travelled from her lungs and blocked a tube…"
The relatives believed that the doctors "waited too long to do the surgery. It should have been done since the day she was transferred even if the baby was dead. She was still young and she had another child to live for."
They said it is hard to get memories of Monica out of their minds and that her daughter is a constant reminder of her.
Around the Web