The Christmas season for many is a time of joy, delicious food and spending quality time with family and friends. That beautifully decorated Christmas tree and gifts are some of the things that we look forward to during this season. However Jacqueline Cato and her five minor children could only dream of such this Christmas and perhaps for many more Christmases to come.
Unemployed and a single parent, 34-year-old Cato lost her husband five months ago at the hands of unknown killers who were after vehicle batteries that were at his Non Pariel, East Coast Demerara worksite. He was a security guard and the sole breadwinner for the family. At the time of his death, Cato was a housewife.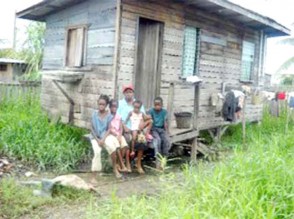 Life for the Cato family has always been a challenge but with the brutal murder of 44-year-old Ronald Cato called `Pepper' on July 14, things became harder and the future much more uncertain.
Cato told Stabroek News recently that she is depending on kind members of the public to provide key ingredients for her Christmas Day meals. At the time of the interview she said that she had already received toys for the children and "lil ration". She said pepper pot and cake are must haves for her and despite her difficult circumstances she will ensure that she has these two things on Christmas Day. Cato does not have an oven but says she will get someone to do her baking.
"I don't have a special menu yet. Ah got to see what ah get first," she said.
On the verge of tears, the woman recalled that Christmas was her husband's favourite time of the year. "Every time ah study meh husband it hard because he use to ensure that there were things for me and dem children. Ah never expected my husband to die like this. He use to mek sure that they happy Christmas time," she said struggling to fight back tears.
She noted too that Christmas is a very special time of the year for her family since one of the children was born on Christmas Day.
"Now there is no dad to celebrate this Christmas… but I know that this Christmas God will provide things for us," she stressed.
Speaking now about the children, she said that they are all happy especially with the toys they had received. She said that the two younger ones still ask for their father. "Ah does tell dem that dem father die but by dem small dem ain't really understand," she added.
Cato said she opted not to venture into the world of work after the death of her husband because of her children.
"Ah have to study my children. One is just two and another one in nursery school," she said adding that the eldest child is 10 years old.
The woman said that before she thinks about educating herself or learning a skill she has to study the well being of the children since she has no one to look after them if she is away.
The Cato family moved to Non Pariel from Berbice, three years ago. According to Cato, she doesn't really know anyone in the area and doesn't have relatives living nearby. She insisted that she will not return to Berbice since life there is even harder.
"Ah does ensure that the children go to school so that they can take in their education and not have to do jobs like my husband," she said.
A new house
Meanwhile, Cato told this newspaper that if she had one Christmas wish it would be to own her own house. She currently lived in a rented one room structure.
At the time of her husband's murder, the Catos occupied a small one room house that would not comfortably accommodate seven persons. Water and mud surrounded the house and the yard had weeds taller than the youngest child.Cato during the recent interview with this newspaper said that she has since relocated to another property in the village. She explained that she had to move since the owner wanted the house.
The new place of abode she said is also a room structure but is bigger and the surroundings are better.
"I pray that we get a nice Christmas and that next year would be more fruitful and I will be able to get my own house," a confident Cato said.
She explained that the children understand that she is unemployed and as such "dem ain't looking out for nothing but I does tell them that God will find a way to provide for us".
Cato says that she is looking forward to the day when she would be better able to provide for her children the way she and her husband had always talked about. Though this Christmas would be a different one, she hopes that next year it would be better.
Around the Web