Well-known actor Lyndon 'Jumbie' Jones, who was forced to spend Christmas behind bars after police arrested him on Christmas Eve night accusing him of robbery under arms, was this afternoon simply released from the Brickdam lockups without being questioned or charged and without having to post any bail.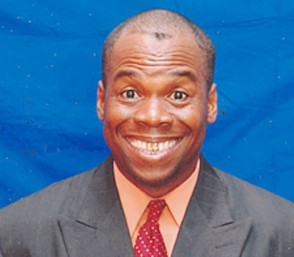 Jones was arrested on Friday night in front of Nigel's Supermarket after some police officers observed him and radioed in for back-up before taking him into custody.
Jones told Stabroek News that he was perplexed over how his freedom was snatched from him, and at the fact that for the two days and two nights he spent in custody no police officer said anything to him. He was not questioned about any robbery, or told when it had occured or who made the allegation. Nevertheless, he said he was relieved to have his freedom back.
His friend Maria Benschop had told this newspaper earlier today that since Friday night, "we have been running back and forth between Eve Leary and Brickdam with no one telling us what is going on."
She said she was in Nigel's when Jones was arrested and he later called her down to the Brickdam Police Station where he was booked and he informed her that the police said he was wanted for robbery under arms. She said that was the first time Jones heard of the allegation and up to this morning his relatives were not told where the alleged robbery took place or who was robbed. It was pointed out that Jones was part of a show on Thursday night, which was "heavily advertised", and the police could have arrested him at the National Cultural Centre.
However, the man's relatives believe that he was arrested on Christmas Eve night to ensure that he remained in custody over the holidays to "teach him a lesson.
"This thing has nothing to do with any robbery under arms, 'Jumbie' is a well known respected person and he would not be involved in anything thing like that. This thing stems from something else and involves a senior police officer," Benschop said.
Stabroek News was told that Jones had repeatedly used his 'Let's Gaff GT Style' television show to publicly speak about the issue with the officer and although he had not named anyone it is believed that this angered the officer.
Around the Web