(Photo below by Cyril Bryan)
The story recounted here has to be but a synopsis, a mere snapshot of a ninety-year old life well lived. That life has epitomised Guyanese perseverance, creativity and versatility, as much as it has been a testimony both to personal achievement and service to country.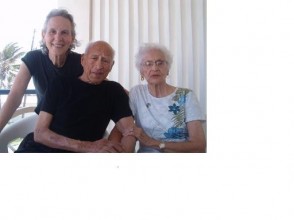 The objective here is to allow today's generation of Guyanese an inspirational peep into a life which enlivened the days and nights of their older counterparts, beginning in the forties and fifties. The Lee friendly reminiscences of those interesting old days will be pure nostalgia to the over-fifties. It is to be hoped that they influence the younger readers to be as determined as the optimist Vivian Lee always was—and obviously still is.
VIVIAN – CHAPTER ONE
The curtain rose on the life of Vivian John Lee on August 27, 1919 in a most humble one-room apartment at the corner of Robb and King streets, Lacytown, Georgetown. His parents William and Adela Lee ran "the family business", a modest little "labour-intensive" laundry. The famous St George's Anglican Cathedral was just a few yards to the north of the Lee residence. He also lived in the residential Queenstown, later in a busy life.
But young Vivian attended two Georgetown primary schools before entering the relatively-prestigious, Roman Catholic-oriented St Stanislaus College. A well-grounded education served to arouse the young man's creativity, innovation, intuition – and ambition. He wanted to expand and modernise his parents' laundry business.
So off to the USA he went – finding a school which offered "a Dry Cleaning Course" in Maryland. Fate – and a shrewd choice – directed the youngster to enrol for a programme in Radio Broadcasting at Columbia University in New York. It was the late 1940's as he headed home, but with another fateful stop-over in neighbouring Trinidad and Tobago. And it was there that a Guyana-born manager of a radio station – a Mr de Freitas – goaded him into producing and presenting – of all productions – a half-hour semi classical documentary. He would return to Trinidad and Tobago to join their army as an Artillery gunner much later.
His homeland beckoned. He answered and returned to B.G. to stay put.
****
Chapter two: faith, family, fortune
During the late forties/early fifties limited experience and limited savvy investors forced him to abandon his laundry/laundromat ambition.
Innate creativity combined with shrewd business acumen to ignite Lee's natural flair and trained technical, commercial eye. He saw the need, even in those early colonial days, for professional advertising in both the print and broadcast media.
He was selling the famous Guinness Stout for Commission Agent J. F. Green when it struck him that the media -limited as it was then – was the vehicle for advertising, publicising and promoting the colony's popular goods and services. Faith in self joined confidence and technical know-how. Since Vivian veered towards radio, he sought to produce radio programmes which soon attracted the ads. Then salesmanship stepped in,
"1 produced 30-35-second radio ads" Vivian recalled, "then I split advertising to cover the long half-hour programmes". These were innovations in the then colony of British Guiana of those early fifties. Thus, Ace Advertisers was born.
So too were Ronald, Jennifer and Kenneth, the first three siblings, to Vivian and wife Maria (Rodrigues). His eyes were "big", as Maria was a tall, full-figured and buxom other half. She probably had inherited her father's genes. He was a Guyanese wrestler known as "Big Six". That would never have intimidated the big and bold Vivian who himself had inherited his mother's height as against his old man's diminutive frame.
Young family notwithstanding, Lee plunged into the relatively new world of local advertising in which he was an aggressive pioneer. The only real competition to him were Carib Advertisers, then later Pearl and Dean who captured the advertising (of pictorial stills) in the country's numerous movie houses. The Perreiras and Harrisons were among Ace's few contemporaries then.
Meanwhile his work in his twin love, radio, captured Guyanese attention, administration—and sponsorship. For even as Ace Advertisers made people want – and buy—such diverse products as Zex Laundry Soap, Husquavarna Sewing Machines, Ovaltine, XM Rum, BATA Shoes, Torginol Paints and FIAT motor cars, his voice and style became part of Guyanese households – from the working -class to the business class. Then came the popular radio shows. The Ovaltinees was a two-category talent show featuring an introductory theme song that all Guyanese youngsters of that era knew; "We are the Ovaltinees, Little Boys And Girls…". So too was the extremely popular Amateur Hour during which the dreaded "gong" was used to reject the hapless, would-be artistes.
On Radio ZFY, even earlier, he produced "Time is money" and the famous "Snodgrass Family" comedy show. Many other shorter music programmes carried the Vivian Lee signature. His work in advertising and radio contributed to both Guyanese commercial and cultural identity. Vivian was truly on his way, but the journey had only just begun.
MORE SHOW BIZ, MORE FAMILY
Since he was now a name in advertising and radio and the Colony's artistes were taking note of both his promotional and entrepreneurial capabilities, it seemed natural that he should include the promotion of popular entertainment in B.G. in his portfolio.
This he did with gusto. He managed the talents of, and arranged shows for such names as Johnny Braff ("It Burns Inside"), King Fighter ("Oh My Dear"), Lord Canary ("Down on the Bottom Floor"), Eddie Hooper, Pamela Maynard, ("Lost Lonely and Helpless"), Monica (Lady Guymine) Chopperfield, and Delma Lynch, among others. Vivian also produced long playing albums and shows featuring such leading bands as Combo 7, The Rhythmaires, and an Independence (1966) Album featuring folk-songs, national songs and masquerade music. ACE would record at the Radio Demerara Studios and send the tapes to the Decca label in the UK, then later to WIRL in Barbados. And no, he did not fight the burly King Fighter, but did have "a physical mis-understanding" with the equally colourful calypsonian Lord Sweet Dreams..
Through all this, he made time to conclude his first marriage to Maria and to visit Europe, In a tunnel between France and the rest of Europe, at a toll station he was attracted to a tall, lovely lady. She seemed to be hitching a ride to somewhere, "I ended up getting hitched to a hitchhiker, "quipped Vivian recently, his effervescent humour still intact. Her eventual destination terminated in marriage to Vivian in 1971. He made Guyana her home for eight years.
The French mom Isabelle, added Anthony, Delecia, Catherine and Mary to Vivian's family. And then there were seven loving off-spring who would watch their dad produce touring Gypsy Caravan Stage Shows, continue his broadcasting, advertising, promotions and public relations work. Again, in 1975, Vivian Lee broke new ground. He produced a local Motion Picture!
THE MOVIE, THEN THE MOVE…
Guyana's Prime Minister Linden Forbes Sampson Burnham was a passionate advocate of Guyanese eating primarily what they produced right in independent Guyana. Agriculture was therefore one of his government's basic programmes. Vivian had done a Course in film-making (movie production) during a stay in the United Kingdom. So he chose a unique manner in which to join the Government's national agricultural drive. He would produce perhaps Guyana's second fully local movie!
It was titled "IF WISHES WERE HORSES", featuring Guyana's premier comedian Habeeb Khan as a farmer who preferred show business, but joined the National "Feed-Yourself campaign. The production was slick and was a hit. Original songs and theme music, the dramatic and comedic skills of Khan, Mignon Lowe, Barney Johnson, Don Me Master, Lennox Greaves and Vivian himself, superb technical work highlighting the country's beauty-spots secured rave reviews for the local production. Vivian Lee had scored another of his life's professional hits. And he and Habeeb Khan began a life-long friendship—as well as an appreciation of saxophonist Harry Whittaker who wrote lots of music for him. ("Harry was a great musician", Vivian testified). Another master, Eddie Hooper, had also lent his musical talents to the production.
By 1979, however, national life had been under severe strain; – rough-neck politics, the assassination of Dr. Walter Rodney would occur, economic decline and social dislocation.
Influenced by wife Isabella and in the interest of his children's future, the Guyanese patriot Vivian Lee migrated to Canada, after his pre-retirement in the picturesque Annecy – a city in France near to the Alps and Switzerland.
Farewell youth, golden twilight
The young Guyanese who had blazed a trail in professional advertising became another statistic
in the wave of international migration and Guyana's devastating Brain Drain.
I had to tell Vivian recently that, as a youngster growing up in Georgetown, I never saw him "as Chinese". "That's because that, even as I joined the Chinese Sports Club, I gravitated naturally to Non-Chinese friends and business colleagues. My social record is known", he explained.
In Georgetown, he played a little cricket and was the President of the Guyana Table Tennis Association in the fifties. But his sporting passion was football! He played centre forward/inner right for Artillery Football Club teaming up with his friend Alvin "Golden Boy' Rodrigues at inner left. And when Soft Shoe Football became a craze on the Parade Ground in the city, his team "Red Banners" was often champions.
Now, in Vancouver, Canada, he became a teacher of English – the language he wanted the children to master, out of France. (Ironically, his wife Isabelle had taught French to the Alliance Francais Groups in Georgetown). Business Executives comprised his class. But he wanted something more creative to do so he conjured up a Scholarship Savings Fund for Vancouver's ambitious youths ("Save As You Grow" was its theme).
He even tried composing some church music, came up with an educational Board Game and as the years turned more golden, Vivian authored an appropriate publication titled "Super Seniors". It's a Guide for very senior adults, spelling out how to get the best out of their senior years. What an interesting experience-filled, life's—handbook it is! The New York, USA Guyana Cultural Association presented Vivian with one of its prestigious awards a few years ago too.
"I've had a wonderful life filled with opportunities and loving, supportive partners and children. I wouldn't change anything! Whatever your age, chase your dreams purposefully; grasp opportunities when they present themselves," he advises.
As usual, the lady had the last word: "Vivian has been, and is, the supreme optimist. Whenever I would be sceptical of his latest plan or project, his determination and optimism paid off. Whatever others think, he also thinks of people…"
As testimony to that, in the final hours of his last visit to Georgetown, he went out of his schedule, to find and pay a visit to the seventy-plus Monica Chopperfield, one of his songstresses of the sixties – also then in her golden years. That is the man—Vivian John! He exchanged pleasantries with his matured song-bird Monica "Lady Guymine" Chopperfield passed away a few days after those beautiful moments with her old Manager.
Vivian John Lee is still with us, making the most of his Super Senior years…
Around the Web