For some, Christmas is not Christmas without black cake, oven fresh homemade bread and all the usual baked goods and the Amsterdam family of Linden faced this reality this year for the first time.
Charlene Amsterdam was one of several maternal deaths this year at the Georgetown Public Hospital (GPH) and her passing has left a void in her parents' Amelia's Ward, Mackenzie, Linden home especially at Christmas time.
Evadney Amsterdam, her mother, said the family has lost a special person at a time when her absence would be felt the most because she was the one who had that special touch in preparing the delicacies made of flour for the Christmas holidays.
"Charlene loved the flour," her mother recalled. "She used to do all the baking for Christmas, she would come up [from Georgetown to Amelia's Ward] and she would do all the flour baking, the black cake, the pastries, the roti all the flour works she love and every Christmas that was her thing."
Tears filled the eyes of her parents Vibert (Snr) and Evadney as they spoke with Stabroek News. A younger sister, Lisa, was bottle feeding Charlene's baby Ameenah Akeola Amsterdam who is now two months old. "They robbed meh grandchild of she breast," murmured Evadney who couldn't resist recapping the days leading up to Charlene's death.
"I never get a chance to speak meh mind bout how dey kill meh daughter," Evadney said. "Yuh shudda come when it been fresh in meh mind and meh really bex with them how deh treat meh daughter," she added. She described her daughter as a healthy child who was eager to have her peers deliver her at the GPH since she had been a registered nurse/midwife there for many years. Charlene expressed so much confidence in the doctors and nurses at the hospital that she chose to remain in Georgetown as against delivering at the Linden Hospital Complex (LHC) where her younger sister works as a registered nurse/midwife.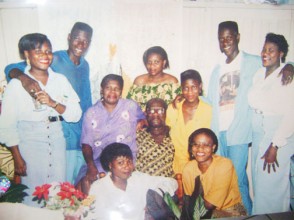 Charlene was always on the defensive for the staff of the GPH. "You couldn't talk nothing bad about Georgetown hospital she had confidence in them and use to represent them now look how dey let she down…," her mother said. "Strong healthy woman, dey suddenly find all kinda rare sick fuh put on she, my child was healthy and had no sick, none!" she exclaimed.
She said that it was following the delivery of her baby girl that Charlene developed complications and required emergency care. She claimed that the doctors failed to administer some basic treatment at an early stage resulting in her death.
According to the woman, her daughter had lost a large amount of blood following her caesarian section delivery and should have been given a blood transfusion from the onset. Despite this the family never expected her to die. Days prior to her death, the reality of her condition was kept a secret from her parents who said they were told she was recovering nicely until the eve of her death, when they were told that she was not looking too good.
"De night when de phone ring, I ain't even answer it yet and I start fuh holla cause I know was death message duh time of de morning," Evadney said.
Charlene's sister Lisa Amsterdam a registered nurse/midwife was denied entry to the ICU by nurses when she went to examine her sister. "That tells us they knew what was going on and Lisa was going to pick up and question and they didn't want that," their mother said.
The 42-year-old Charlene was a member of a tightly-knit, ten-member family. Of the eight children born to Vibert and Evadney, one of the two boys and Charlene are now deceased. Being grown people all of the children lived away from the family house with the exception of the youngest Lisa, but for the holidays, mainly at Christmas, the entire family would come together.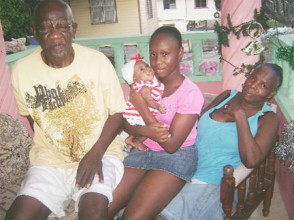 "Charlene use to set her shift in such a way that she coulda get to be around to do de baking because that was her thing, she use to do herself with de flour," her mother recalled. A fun person, she always had a surprise for her parents and siblings. According to her mother, they raced to call her every morning and night because she was the only child who resided out of Linden. "She use to do the same, every morning first thing she use to call and the last thing at night and all the sister and they only brother they communicated every day, our children were very loving." Her parents faces were plastered with smiles as there reminisced on special moments she shared with them.
Many days she would travel to Linden and hide in her parents' house and 'jump' them when they walked into a bedroom or in the kitchen. "That girl was something else, we would talk to her de night before or the same afternoon and she would say nah she ain't coming up today and sometimes she done deh on the bus coming up yuh know and when yuh go in de room she jump you," said her mother.
"Even when dey got other holidays we would all pack up in de bus and head to town at Charlene," Vibert (Snr) said. "We use to got so much food and drinks man, we use to have a really good time." He added that the love will continue but things wouldn't be the same without Charlene, the flour girl, out of the picture.
Charlene was the second Amsterdam to have died at the place of work. Her younger brother Mark Amsterdam died following an accident at the bauxite plant power station in 2005.
Charlene is also survived by her two daughters the new born Ameenah and 13-year-old Mackenzie High School student Akeelah King.
Around the Web