Two days after he was arrested and forced to spend Christmas behind bars well-known actor and stand-up comedian Lyndon 'Jumbie' Jones was yesterday afternoon released from the Brickdam lock-ups without posting any bail or any charges being laid against him and he now says he is fearful for his life.
A shocked Jones told Stabroek News hours after he was released that he still cannot believe he had to spend part of the holidays in the lock-ups and he is calling for answers in an attempt to understand what could have led to his arrest.
While he was told at the Brickdam Police Station, minutes after he was picked up from in front of Nigel's Supermarket, that he was being booked for robbery under arms Jones said no allegation was put to him and he is still at a loss as to where the alleged robbery took place and against whom.
His relatives and friends are convinced that there was a sinister motive behind his incarceration, stemming from an incident involving a senior police officer and some of the relatives. But Jones was somewhat hesitant to take that angle preferring to say he would be conducting some investigations in the next few hours. He said should it turn out that his arrest was on the instruction of the officer he would be making the matter public.
Stabroek News understands that a relative of Jones has a relationship with a young woman who also reportedly has a relationship with the officer. A misunderstanding between the relative and the woman led to the relative and his mother being arrested.
Jones had repeatedly used his 'Let's Gaff GT Style' television show to publicly speak about the issue with the officer and although he had not named anyone it is believed that this angered the officer.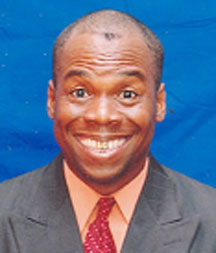 The actor told Stabroek News that some time around 1 pm a police officer approached him in the lock-ups and told him he was being released after he gave a statement.
"As I hear release I was so happy that I rush through that statement and just went through the gates," the man said adding that in the statement he was asked to give details about his arrest on Friday night.
According to Jones, he was outside Nigel's Supermarket waiting for his friend Maria Benschop when he was called by one of two police officers who were standing in front of the supermarket.
"I was crossing the road when one of them on the radio set called me and said 'Jones come' and I went over and even high five him," Jones recalled.
He said the policeman then told him that the officer in charge at Brickdam wanted him at the station. Jones said initially he thought the policeman was making a joke and he even joked about it.
"I was standing there and feeling good to be hanging out with two police officers and I hear the policeman giving direction to where he was on the radio set but up to then I did not know what was happening. I said I would be witnessing a police operation but [then] the police vehicle approached and one of the policemen said 'Mr Jones please step into the vehicle'.
"I said 'is this a joke' and the policeman said I am wanted and I know the police have rights to arrest you so I went with them."
He said as soon as he arrived at the station the officers started to book him and he questioned why he was being arrested and it was at that point he was told that he was being arrested for robbery under arms. Jones said he then requested a phone call and he used his cellular phone to call Benschop to visit the station to collect his personal items.
"I was not told where the robbery took place or who I robbed and all weekend I was not given access to speak to anyone. They gave me the food that was taken to me but I had no appetite to eat. I shared it with some of the guys in there," he related.
"I really felt hurt over the entire situation knowing that I am an advocate for people to stay on the right side of the law. And even though I use my show to speak out against police brutality I always made it clear that it is not all police officers who are involved in such things," the man lamented.
He said he speaks out about police brutality and other ills in the society because he wants "our country to be a better country".
The 44-year-old actor said he has never been involved with the law in his life as he always did what was right and he was "surprised that people would do this to others. It is just ridiculous and I have to conduct some investigations.
"I can't believe that people could be so small minded."
He added: "Maybe there was a robbery and somebody said they saw a jumbie in the mix," in an attempt to inject humour into the situation.
On a serious note however, Jones said he now feels he could be picked up and charged with any other offence, adding, "I am very afraid for my life now." He said he has done a lot of work with the police force along with fellow actor and comedian Henry Rodney and while they were paid for some work, some of it they did voluntarily.
"I know a lot of police officers through the work I did with the force and I will be trying to find out what really happened," he said.
"I wouldn't mind if somebody say they are sorry for what happened then I would just let it go even though I know I did nothing wrong. But if I find out that it was not a clear case of mistaken identity and it was out of vindictiveness then I owe it to society to expose it and that is what I will do."
Speaking about his experience in the lock-ups Jones initially jokingly said it was "adventurous" as he was given "full fledged access to the lock-ups where you media people can't get any access. I was able to sleep with the prisoners and it was a great experience." He said many of the men in the lock-ups were very frustrated that they were being made to spend the holidays behind bars and this made them very agitated.
"Let me tell you something every minute felt like an hour and every hour like a week so it was like I was in there for years, I really couldn't take it," he admitted.
"I always work with a passion to remain on the right side of the law and for people around me to do the same and looked what happened."
Around the Web