– assailant on the run
A carpenter was stabbed to death on Sunday evening allegedly by his brother-in-law following a scuffle after the now-dead man had slapped his wife during a family gathering at Diamond, East Bank Demerara.
Dead is Ravindra Sookhoo, 24, a father of two, of Lot 154 Belle Vue Housing Scheme, West Bank Demerara. He had met his alleged killer, his brother-in-law, for the first time on Boxing Day at a family gathering at his wife's mother's home in the Diamond Housing Scheme.
The assailant is on the run. Police said in a statement that they are investigating the murder. Investigations revealed that Sookhoo and another man were imbibing during which an argument developed between them and he was allegedly stabbed to his body, the police said. Sookhoo was taken to the Diamond Diagnostic Centre where he died.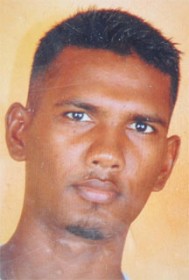 In tears yesterday, relatives of Sookhoo gathered at his home. Savitri Singh, his wife of five years told Stabroek News
that at about 7:30 pm on Sunday, she was trying to put on their younger son's sandals but he didn't want to put them on. Sookhoo, she said, shoved the toddler and he fell. "Me ask he why he do dah and he slap me," Singh recalled.
Family members had gathered at her mother's, Narainie Narine's home for the day and the men had been consuming alcohol. Singh said that her sister's husband, who was sitting nearby, asked Sookhoo why he had hit her and Sookhoo asked if he wanted to do something to him. Following this, the two started to scuffle, Singh recalled.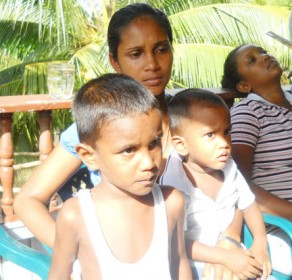 She said that she took her two children outside and another relative went inside to stop the fight. Singh said that when this occurred, the assailant ran into the kitchen and then ran downstairs. She said that her husband was on the verandah and threw down his shirt and shoes and she picked them up and placed them at the stairs. Then, Singh, said, Sookhoo, came downstairs and went into the bedroom but when he emerged, he was bleeding. "I just tek the shirt and put it on he and hustle foh get a taxi," she recounted. She said that he had been stabbed once in the chest.
Relatives rushed Sookhoo to the Diamond Diagnostic Centre where he was treated and admitted. But he was in great pain, Singh said, crying as she remembered. "He call my name and tell me pain too much and he hold my hand and he hand cold, cold." She said that she could not bear it anymore and left the room. "I came outside, next thing you know, he dead," she said recalling that blood had sprayed from the wound. Singh said that her husband died some time after 9 pm.
The assailant fled after the stabbing and up to late yesterday had not been captured by police. Singh said that when they went to the Diamond Police Station on Sunday night, only two desk officers were there and they said that there was no one to send to the house.
Relatives described Sookhoo as a "quiet" person. The couple had two children, Ryan and Robin, aged three and two years respectively. Ryan had witnessed his father bleeding, Singh said.
Sookhoo was the breadwinner for the family.
Police investigations are continuing.
Around the Web