MELBOURNE, (Reuters) – England's bowling attack   continued to maintain a stranglehold on Australia's batsmen in   the fourth test today, putting the visitors on the brink   of a first successful Ashes tour triumph in 24 years.
Needing 415 runs just to make England bat again,   Australia's brittle top order disintegrated under pressure   once more, limping to 169-6 at stumps in front of a despondent   crowd of more than 68,000 at the Melbourne Cricket Ground.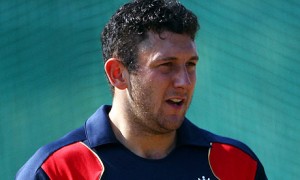 Australia, who were bundled out for 98 in the first   innings, trail England by 246 runs and are odds-on favourites   to become the first team to surrender the Ashes on home soil   since Alan Border's defeat to the Mike Gatting-led England   team in 1986/87.
Brad Haddin (11) and Mitchell Johnson (6) survived the   last few overs to stumps and face the unenviable and virtually   impossible task of staving off England's victory charge on day   four.
Tim Bresnan, called into the side for Steve Finn, took   three wickets in a brilliant spell after tea to leave   Australia reeling on 104-4 before Graeme Swann and James   Anderson took a wicket apiece to inflict further pain on the   hosts.
"We've done well," plain-spoken Yorkshireman Bresnan told   reporters. "We put a lot of hard work in. We've got a lot of   work still to do tomorrow to finish the job and that's what   we'll be looking to do."
One of Bresnan's wickets was Australia captain Ricky   Ponting, who struggled to 20 before chopping onto his stumps,   continuing a woeful run in a series in which his highest score   remains an unbeaten 51 in the drawn first test in Brisbane.
Ponting apologised before taking the crease for his ugly   remonstration with the umpires on Monday over a video   referral, but no amount of mea culpas are likely to save the   36-year-old's captaincy or win forgiveness from a shattered   Australian public for his team's performance.
He stands on the verge of becoming the first Australian   skipper in more than 100 years to lose the Ashes three times   and after scores of 10, 1, 12, 9 and 0 in his five previous   innings, can no longer lean on his batting record to justify   his tenure.
Australia's bowlers, to their credit, had earlier raced   through England's last five wickets for the addition of 69   runs to have the tourists dismissed for 513 just before lunch.
RUN OUT
Any hope of the attack's performance inspiring their team   mates with the bat were soon dashed when Shane Watson enhanced   his reputation as one of the worst runners in elite cricket by   running out opening partner Phillip Hughes for 23.
The pair had made a bright start, notching 50 runs at a   rapid run rate of more than five an over, before Watson pushed   to cover and called Hughes through for a single.
"It's a horrendous feeling running out a team mate, you'd   rather it be yourself," Watson said.
"For us to play as poorly as we have, it's been very   shattering for me…  It'll be a pretty morbid night again   tonight, I think."
Jonathan Trott, whose unbeaten 168 earlier put England in   complete command, swooped on the ball and flung it low and   straight to wicketkeeper Matt Prior, who whipped off the bails   with Hughes short of the crease.
The dismissal was a repeat of the run out in the second   test in Adelaide when Watson ran Simon Katich out on the   fourth ball of the first innings, though there Trott made a   direct hit.
Watson and Ponting helped Australia stutter to 95-1 at tea   but rarely appeared comfortable at the crease and both soon   lost their wickets to Bresnan.
The replacement quick trapped Watson lbw for 54 before   removing Ponting, then Mike Hussey for a duck (0) when the   middle order batsman pushed a delivery that stayed low to   short cover where Ian Bell took a smart catch.
Michael Clarke, who has managed one half-century in the   series, scratched around unconvincingly for 13 runs in a   66-ball knock before nicking a Swann delivery to England   skipper Andrew Strauss at slip.
Steve Smith survived a little longer but was bowled by   James Anderson for 38 to leave the hosts reeling at 158-6.
Australia's woes had earlier been compounded when paceman   Ryan Harris hobbled off the ground with an ankle injury after   stumbling in an aborted run-up bowling to Bresnan.
A team spokesman later said Harris would likely need   surgery for a stress fracture, casting doubt on his   availability for the fifth and final test in Sydney next week.
"There's a lot of very disappointed Australian supporters   out of this, so we've got to salvage some pride out of   Sydney," Watson added.
Around the Web