At their Woodley Park, West Coast Berbice home, 22-year-old Tricia and her husband Bheer Persaud have their hands full taking care of their three five-month-old baby boys and two-year-old daughter.
But although the task is challenging, the young parents looked quite calm. Tricia had given birth to triplets; one en route to the Georgetown Public Hospital (GPH) on July 20.
The first boy, Ethan, was born in the car at Annandale, East Coast Demerara around 9 pm as Tricia's father drove to the hospital. The other two, Nathan and Neil were born in the compound of the GPH.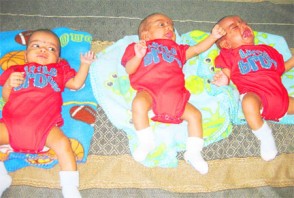 Life has certainly changed for the proud parents, from having to care for just their daughter Samaira who will be three years old in January, to three new babies at one go. Samaira loves her little brothers and is even "playing nanny for them," her mother said.
With all the little ones to carry along, going out is no longer easy for the parents.
The Persauds operate a small shop at their home located close to the Woodley Park Primary School. When Bheer is not busy at the Guyana Water Inc where he works part-time he is home helping with the children.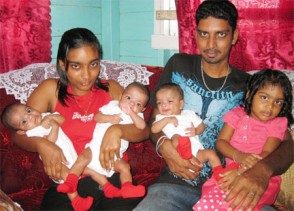 They also get help daily from Tricia's mother, Sherry Roopnarine who lives at Bath Housing Scheme about a mile-and-a-half away.
Sherry usually spends the entire day helping to care for her grandchildren and her husband would also visit to do his part.
The triplets came as no surprise to Tricia. She had done a set of ultra sounds which confirmed that she was having three babies. But when Dr Guy Low of Medical Arts Hospital first told Tricia she was pregnant with triplets she did not believe him and asked three times if he was "sure."
The Persauds said they had hoped the babies would be two boys and a girl to even things out, and after they found out that would not be the case they were a bit disappointed but nonetheless very excited.
They had already started to prepare for the babies, but did not think that they would be ready to enter the world at seven months. The babies had to be placed in incubators and Tricia spent almost two months in hospital with them.
Recalling her miraculous delivery, Tricia said she had gone to her parents' house around 5.45 pm with the hope of relaxing there for a few days. But shortly after she arrived she started experiencing pain in her back and then in her belly.
After the pain became intense her parents and an uncle took her to the GPH. As her mother, Sherry Roopnarine assisted in delivering her grandson and cleaning him up, Dr Low was contacted.
He in turn got on to paediatrician Dr Clive Bowman, who arranged for the midwives to be in the compound of the maternity ward.
By the time the car drove into the compound the midwives were there waiting to help welcome Nathan and Neil into the world. They too were delivered in the car.
Tricia was pleased with the efforts of the doctors and nurses. She said: "They did a real good job and I wish to thank all of them."
She also expressed gratitude to the Ministries of Health and Human Services, Cheekies Diapers and Sarah Insanally of the Tina Insanally Foundation.
Around the Web