When 32-year-old Aseelah Haqq died in September it was as if a light went out in her Middle Walk, Buxton home and this year there were no fairy lights or any form of celebration for the holidays.
With the death of mother of four her three eldest children were forced to move from the only home they knew to live with their father's relatives in Beterverwagting (BV). Ayesha Haqq, Aseelah's sister, said while it was a very painful decision she had no other alternative as she can ill afford to maintain them along with her four children. She applied to the Ministry of Human Services and Social Security for assistance, but is still awaiting an answer.
In fact, Ayesha now has five children because the baby girl her sister died delivering is now her daughter and one she plans never to part with.
"This is my daughter. I love her like my own and I nurse her because I have a 13-month-old daughter so I am nursing both of them." As her aunt spoke those words, three-month-old Akaylah Watson lovingly latched on to her breast as if in demonstration of what she had just said. Soon, the cute baby girl with a head full of hair was fast asleep.
Haqq became one of the nine women to have died in childbirth since September when she was forced to deliver her baby girl normally even though a c-section was ordered upon her admission at the Georgetown Public Hospital (GPH). Today, her sister said she has still not been told why her sister was not given a c-section as even though the hospital said it conducted an investigation, she has not been told the results of the findings.
"Right now I don't able stress myself out. This thing have me so bad is like all my hair dropping out and I have to stay focus to look after my children and my niece. Some people had called but I told them I just leaving it in the hands of God," Ayesha said with a sad shake of her head.
As she spoke, all of the children–including her two nephews and niece who now live in BV–crowded around her listening keenly.
"My mommy in BV burial ground," chimed in five-year-old Akeelah even as she smiled. Her other siblings are nine-year-old Orlando and seven-year-old David.

Really hard
The death of Aseelah has really hit the family hard and Ayesha said her sister's children, especially the oldest one, finds it difficult to accept that his mother is no more. All three of the children reacted negatively to the relocation. The children would normally spend the weekend with their aunt, sister and cousins.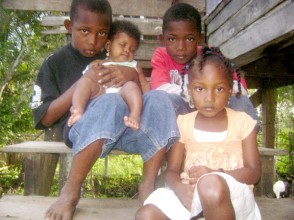 Her mother, who lives in Trinidad, is "still taking it on and crying every time she call. We didn't expect Aseelah to die like that is just a baby she went to get," Ayesha said.
"I find it so hard that to tell you the truth I had to put up all of she pictures because it was like I running mad, I couldn't look at them."
Ayesha said she worked when her sister was alive but recently she was forced to leave the job because of her niece and the fact that she also has a small child.
"I use to carry the two to work when the other went to school but it was very hard I couldn't really focus and I could feel like my body not able anymore so I decided to stay home. Like how I have to nurse both of them it hard, is like I get twins and I have to ask God for strength."  When her sister was alive she had no problem with her children being taken care of as she was always there to help out.
She said her daughter competes for her attention and it is difficult because the baby needs more of her attention and her daughter is too young to understand.
Things are more difficult because the baby's father–who is not the father of the three oldest children–has only been promising to help.
"He promising me all the time, up to the other day he call and promise to send some money but up to now nothing come and I not worrying with him because my niece will live," Ayesha said adding that the man did not even return to Guyana from Trinidad for her sister's funeral. Even before her sister died, Ayesha said, she was finding it difficult and she was forced to purchase all of her niece's baby clothes because she had no money. The only support the family receives is from Ayesha's husband who works in Trinidad and from her mother as her two younger brothers also live in the house.
The baby's name was chosen by her mother because she was convinced that the child would have been a girl.
Her sister was married at the time of her death but was going through the divorce process. Her husband, who also works in Trinidad, returned for the funeral and to spend some time with his children.
Ayesha said when her sister was admitted she was prepared to "run back and forth to the hospital for about two weeks because they said is caesarean but I didn't expect she to dead." The woman said she is convinced that her sister died some time before she received the call and the life support machine was just "a gimmick".
"When I get to my sister she was lying on the bed not moving and her eyes were closed and her face grey. I studying nursing and I know my sister was dead for hours."
The only communication she received from the hospital since was a form they sent to BV Health Centre for her to fill up. "The form asking me a bunch of questions that them suppose to know how they expect me to know all them things? And now I ent hear back a word from them and I leaving it in God hands."  The form was sent since in September.
When Stabroek News visited Haqq's Buxton home shortly before Christmas, Ayesha said: "I can't celebrate Christmas this year, I am not doing anything. If Aseelah was here we would already put up the fairy lights up and had the pepperpot bubbling but right now I can't celebrate. Is like my best friend dead we use to talk anything and go everywhere together with we children." The Christmas tree would have been decorated and the children would have been all excited, instead the household is still in mourning.
"There is no spirit for the holidays and my sister's children for the first time will be spending Christmas with their father's relatives," she said.
Around the Web