A resident of Number 12 Village, West Coast Berbice suffered injuries to his head and hands after a police officer barged into his yard around 6:45 pm during a Boxing Day celebration and gun-butted him over playing music loudly.
Deonarine Persaud, 42, had to be rushed to the Fort Wellington Hospital where he received stitches to his head and left hand. The wounds were also bleeding profusely.
Yesterday he was still in a lot of pain and discomfort. He said the officer, attached to the Fort Wellington Station, dealt him three blows, two of which he "barred with my hands."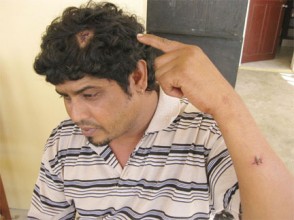 He told Stabroek News that the officer showed up in a "private car" dressed in a uniform which bore no name or number asked him if they had permission to play the music.
He responded that he did not and the officer told him that he wanted "the music set at the station." He told the officer to take it and the officer proceeded to rip off the wires without disconnecting the power.
Persaud's mother-in-law, Meena Ganesh said she tried to tell the officer that he could not pull out the wires like that and he pushed her down and hurt her ankle.
At the stage, Persaud said, he asked the policeman, "if me set burn who gon be responsible to buy it back and he get mad and pull out a gun and started to hit me."
When the other family members asked him why he was hitting Persaud like that he "cranked his gun and said he gon shoot… He de even walk in de yard without even saying good night…," a relative said.
The policeman then walked out with an amplifier, equalizer, MP 3 player, music mixer and a DVD player and loaded them in the car.
Relatives contacted the New Amsterdam Station and about two hours later other ranks from the Fort Wellington Station arrived at the home to take statements.
Persaud was asked to visit the station yesterday morning and when he showed up with other relatives the police placed all of them in custody for about one hour.
According to Persaud, several other residents were playing music much louder in the area.
He said a resident had a barbecue and there were persons who had "happy hour" in the nearby Number 11 Village but their music was allowed to continue.
Asked whether the police can seize someone's music system, a senior police officer in Berbice told this newspaper, "The law caters for that. Once you play without the permission the police can confiscate…"
He said however, that he could not comment on the manner in which it was done because he did "not know of the circumstances."
Commander of 'B' Division, Steve Merai told Stabroek News that he received a report that a policeman was beaten up while investigating a report of noise nuisance and he gave instructions for the persons to be locked up.
He said he was not aware that the man was beaten and said that if "it is indeed so that the police [officer in question] used excessive force he would be disciplined."
Around the Web