Twenty-seven-year-old Richard Fresco's Christmas wish last year was to be able to walk again but he died three months ago without it being fulfilled.
The Angoy's Avenue, New Amsterdam man remained bedridden after a fall from a truck in April last year. He had damaged his spine during the fall but had hoped he would "come back" [recover], his mother, Virginia Beatrice Giddings, 66, told this newspaper.
However, Fresco contracted pneumonia and died at the New Amsterdam Hospital (NAH) on September 6 a few days after being admitted.
Although she was burdened with the task of "doing everything for him up to the last," Giddings said she misses him a lot. "I would remember my son all the time," she said. "He was a company to me and my grandchildren." The woman was sad too that nothing could have been done to get Fresco back on his feet.
He had been helping his mother to take care of his nephews: John, 12, and Isaac, 11, and his niece, eight-year-old Holly after their mother (his sister) died.
Giddings now struggles to make ends meet. She said would get "a small piece" from relatives sometimes, which she has to "pinch to make it do."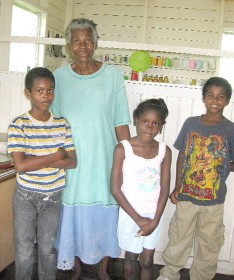 Persons from West Berbice where she originates would offer her a few days domestic work but she said the costly bridge crossing makes it not worth the while.
Giddings said she now tries to ensure that there is enough rice in the house. With that, she said, she would always find a meal, even if it is just "shine rice" or with vegetables she purchases from the market sometimes. When she has nothing else she would pick green papaya from the yard and cook it.
Giddings said she cannot afford to pack lunches for her grandchildren to take to school. Some days they would benefit from lunch which entities would prepare for needy children.
At the time of this newspaper's visit Giddings was cleaning up the house. She was not planning to decorate it though. "I ain't gat no money to buy anything special [to cook] for Christmas," or for presents for the children, she said.
She told Stabroek News too that she was unable to send the children to their school party because she could not afford to pay or to contribute anything towards it. "People used to invite them to parties every year but this year nobody ain't invite them," she said.
One of the boys decided to go to the school party anyhow but when it was time to eat, he said, he was not given any food and he "went outside and sit down." He went in back later and played until the party was over.
At the time of the accident, Fresco was employed at a saw-mill in NA as a labourer for almost one year. He was off-loading lumber from a truck while standing at the side when he slipped and fell.
His co-workers took him to the New Amsterdam Hospital (NAH) and he was thankful that he was still alive. "When I fall I call on de Father because only He can help me. If it wasn't for Him I woulda been dead," he had told this newspaper.
He was transferred to the Georgetown Public Hospital where he spent about four months and then two months at NAH before being sent home. He visited the NAH for monthly check-ups and after it was discovered that he was anaemic he was readmitted for one month.
After undergoing therapy he was able to move his hands a little and continued to "pray to get better." He had said too, "I want a chance to walk again and I trust in God and I know he would help me to walk some time."
Fresco and his family were living in a dilapidated house and he had planned to provide his mother with a better house. After reading about Fresco's plight, the Oldendorff Bauxite Company reached out and with the help of the business community, built a two-bedroom house with a wheelchair ramp for the family.
The inside of the house was painted and Giddings has started to use some of the paint that was left back, on the outside of the building.
Giddings' daughter, Sarah, who was also living in a dilapidated house, had also moved in with the family before Richard died. She has five children including a four-month-old baby.
Around the Web