BUENOS AIRES,  (Reuters) – Argentine President  Cristina Fernandez accused political rivals yesterday of  encouraging land grabs and fomenting squatter violence in which  at least three people were killed last week.
The clashes between squatters at a Buenos Aires park and  neighborhood residents has dominated the news, presenting  Fernandez with her biggest challenge since the death of her  husband and closest adviser, Nestor Kirchner, in late October.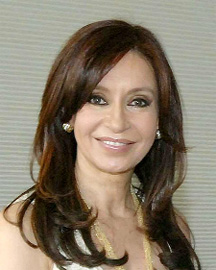 Scenes of stick-wielding youths throwing stones at the  squatters' makeshift tents in a poor suburb of the capital are  particularly uncomfortable for center-left Fernandez, who has  her support base among poor and working-class Argentines. "This din't  just get out of hand, someone was behind it,"  Fernandez told supporters in a televised speech. The violence  in the Villa Soldati district was followed by several other  illegal land occupations in Buenos Aires this week. "From the very first day that I started to govern the Argentine Repub-lic, they started placing obstacles in my path,"  said Fernandez, who is expected to run for re-election next  year.
Squatters demanding public housing started moving into the  capital city's second-biggest park last week and almost 6,000  people are now camping out at the site, according to official  figures.
Some of the squatters said they had been forced out of  their homes in nearby shantytowns because they could no longer  afford rents of about $100, reflecting brisk inflation that is  privately estimated at between 25 percent and 30 percent.
Fernandez frequently highlights her government's efforts to  redistribute wealth in Latin America's third-biggest economy  but critics say the unrest is evidence of gaping income  inequalities and the state's neglect of poor areas.
Political analysts say it is too early to say whether the  unrest could affect Fernandez's approval ratings, which soared  to above 50 percent following Kirchner's death.
Around the Web