A replica of a giant sloth, re-created from old fossils, is now on display at the National Museum.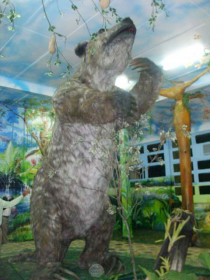 The Megatherium Giant Sloth exhibition was officially unveiled last Friday by the Ministry of Culture, in collaboration with the Guyana Bank for Trade and Industry (GBTI) and Eerepami Regenwaldstiftiftung of Germany, the Government Information Agency (GINA) reported.
The giant sloth, thought to be one of the largest mammals that walked the earth, died during the Ice Age. It is believed that it originated in the tropical rainforest in South America and carried a height of about 15 feet and weighed approximately three tonnes. Megatherium was a gigantic ground sloth that weighed as much as an African elephant with huge claws, much like tree sloths.
Bones of the sloth were discovered by miners around Omai and the Oko Creek, Cuyuni River, in 1999, and were donated to the Museum by Michael Vieira. The replica, which stands on its hind legs with outstretched paws and its head almost touching the ceiling of the display room, costs approximately $10M, is surrounded by replicas of the forest, with accompanying wild animals and exotic flowers.
GINA noted that the discovery has brought the country under the radar of palaeontologists and other prehistoric research bodies. It added that it is hoped that students in particular would be able to appreciate the fauna that existed for over 10,000 years.
Prime Minister Samuel Hinds, who was present at the unveiling, said that he was proud of the achievement of the Ministry of Culture and he thanked the generous sponsors who contributed to the re-creation of the giant creature.
Minister of Culture Dr. Frank Anthony said that he wanted to make this new project available to the public in a way that is engaging and full of fun. He added that the ministry will continue to embrace current and new partners as they pioneer new research into the past and add new information to increase human knowledge.
Meanwhile, Founder and Chairman of the Board of Eerepami Regenwaldsti-ftiftung, Germany, Sven Ullrich, said he was honoured that he and his country had a chance to participate in a project that directs the people to the richness of Guyana. Chief Executive Officer of GBTI John Tracey also congratulated Minister Anthony and his team for the exhibit, which he said created another historical attraction for the country.
Comments

Grace Mugabe   JOHANNESBURG,  (Reuters) – South African police confirmed on Wednesday that Zimbabwean first lady Grace Mugabe remained in the country and had applied for diplomatic immunity after being accused of assaulting a 20-year-old model in an upmarket Johannesburg hotel.

Daniel Craig   LONDON, (Reuters) – British actor Daniel Craig has confirmed he will reprise the role of James Bond one last time, ending months of speculation.

UN experts condemn racist violence in U.S., urge investigations GENEVA, (Reuters) – United Nations human rights experts called on the United States today to combat rising racist violence and xenophobia and to prosecute perpetrators of hate crimes.

The twin-engine Beechcraft seized by authorities on an improvised airstrip on Sunday in the North Rupununi, Region Nine area, was yesterday confirmed as bearing a registration number belonging to an investment company in Brazil.

ExxonMobil yesterday signed a deal with Guyana Shore Base Inc (GYSBI) for an onshore support facility at Houston on the East Bank of Demerara.