United Kingdom–based Guyanese writer Wilson Harris has been knighted by Queen Elizabeth, the honour coinciding with Her Majesty's birthday celebrations this year.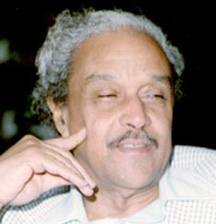 A writer of fiction and non-fiction essays, Theodore Wilson Harris featured on Queen Elizabeth's 2010 birthday honours list for his contribution to literature and he joins several other Guyanese who have been similarly honoured.
Harris was last April hailed as a "quiet revolutionary" in a "quiet revolution" when he was featured at the 28th Conference of West Indian Literature held in Guyana. At the forum, at which another writer, Guyanese Edgar Mittelholzer was honoured, Professor Mark McWatt of the University of the West Indies stated that,' "Part of the quietly revolutionary art of Wilson Harris' writings is his ability to read in the landscape and to reproduce in his fiction, the human emotions of fear and dread."
Professor McWatt noted that Harris has said that much of literature that deals with landscape is a one-sided discourse and posited that this is not the case in the eminent writer's work.
One of Guyana's best known writers, the 89-year old Harris was born in New Amsterdam in British Guiana and attended Queen's College after which he studied land surveying and began to work as a government surveyor in 1942, rising to senior surveyor in 1955. In this period Harris became intimately acquainted with the Guyanese interior and with the Amerindian presence, his profile on the Peepal Tree Press website said.
Between 1945 and 1961, Harris was a regular contributor of stories, poems and essays to Kyk-over-Al and was part of a group of Guyanese intellectuals that included Martin Carter, Sidney Singh, Ivan Van Sertima and Milton Williams. His first publication was a book of poems, Fetish, (1951) under the pseudonym Kona Waruk, followed by the more substantial Eternity to Season (1954) which announced Harris's commitment to a cross-cultural vision in the arts, linking the Homeric to the Guyanese.
Harris's first published novel was Palace of the Peacock (1969), followed by a further 23 novels with The Ghost of Memory (2006) as the most recent. He relocated to the United Kingdom in 1959.
Comments

Nicolas Maduro CARACAS/LIMA, (Reuters) – A group of 12 regional nations plus the United States rejected Venezuela's new government-allied legislative superbody, saying they would continue to regard the opposition-controlled congress as the country's only legitimate law maker.

Eighteen prisoners at the Lusignan penitentiary were being treated for injuries last night following a reported attempt to kill a fellow inmate during which warders fired shots.

A 12-year-old girl is now dead, while her brother narrowly escaped a similar fate yesterday after their aunt's La Bonne Intention (LBI), East Coast Demerara house, which they were under, collapsed on them.

Guyana has officially applied for membership in the European Union's Extractive Industries Transparency Initiative (EITI) which will help in tracking revenues from oil and other natural resources.

State Minister Joseph Harmon yesterday reiterated that President David Granger's directive to the Police Service Commission to halt its consideration of promotions was intended to prevent damage to the image of the Guyana Police Force but he could not say under what authority the head of state acted.