PARAMARIBO, (Reuters) – Former coup leader and  military strongman Desi Bouterse was elected president of  Suriname by the South American country's parliament today,  lawmakers said.
The parliament made the selection by 36 votes out of 50  after Bouterse, 64, who faces accusations of drug-trafficking  and human rights violations, had failed to gain a sufficient  winning majority in May elections.
Bouterse, who will replace outgoing president Ronald  Venetiaan, defeated Chandrikapersad Santokhi, the current  justice minister, who obtained 13 votes.
The former army leader, who took part in two past coups in  Suriname in 1980 and 1990, still faces trial in his country for  the execution of 15 opponents in 1982 during his military  rule.
He was also convicted in the Netherlands in 1999 of  drug-trafficking.
Before today's vote, two local human rights organizations  had asked the National Assembly to reject the candidacy of  Bouterse.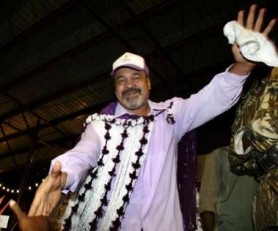 Comments

Three persons, including the widow of one of the two Pomeroon farmers shot dead on Sunday, have been taken into custody and police say one of them led detectives to the location of an arms cache that allegedly belonged to one of the deceased.

The $3.5 billion contract for the Mazaruni Prison expansion, over which BK International Inc.

The family of Marlon Fredericks, the mentally-challenged vendor who was fatally shot by a member of the city constabulary on Sunday, has lodged a report at the Police Complaints Authority (PCA) after a police force report on his cause of death contradicted the autopsy report.
Police in 'B' Division are searching for six suspects in connection with the recent shooting at De Velde, in the Berbice River.

Grade Six students are sitting a series of mock examinations designed to prepare them for this year's National Grade Six Assessment (NGSA) scheduled to be held on the 28 and 29 of March.