– husband had threatened her life
Three weeks ago, Yashpattie Samaroo's estranged husband had threatened to knife her to death but the police did not find him when they went to investigate.
Last Friday night he made good his threat in front of their seven-year-old daughter in a shop at Johns, Port Mourant, Berbice after stalking the woman for several hours.
Samaroo's grief-stricken mother Drupattee yesterday recounted the more than 20 years of abuse, her daughter suffered at the hands of her reputed husband who attempted to hang himself after the murder. The man, Kumar Ranjisingh, 43, a cane cutter is currently a patient at the Georgetown Hospital under police guard.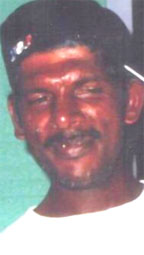 Between sobs, Drupattee said Ranjisingh had threatened to kill her 43-year-old daughter and would constantly beat her with a cutlass. The woman explained that her daughter had finally found the courage to stand up to the man. "She din mek up she mind that she nah go back," Drupattee said, explaining that in the past Samaroo would move out for about two months and then return for the sake of her children and also because of the man's abusive behaviour. "He would come whey she deh and buse up and all kind a thing… so she does just go back with he," she said sorrowfully.
The mother said that several weeks ago, the man who was armed with a knife jumped over her fence in search of her daughter and was later chased out of the yard. She recalled that the man threw the knife on the roadway and said "this knife hey, ah gon kill ya daughta with it". Drupattee said a report was made to the police but they could not locate the man.
Recalling the events of Friday, she said that in the hours leading up to the incident "he bin riding up and down the street on he bicycle lookin fuh meh daughta." The man eventually spotted the woman and told her that she must go to his home and cook his food. She refused to do so and left for her mother's Lot 173 Second Street, Johns home where she had been staying.
Drupattee recalled her bathing her seven-year-old granddaughter before Samaroo left the house with the child.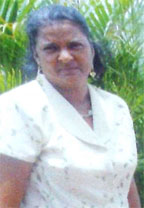 "Next thing ah hear is meh daughta dead," the woman said erupting into tears. She said the dreadful news was delivered by her seven-year-old granddaughter who witnessed the entire ordeal.
According to Drupattee, her daughter sold eatables such as egg balls to help support her children, two of whom are still minors – aged 7 and 16. The eldest is a 19-year old who is employed.
"Ah want he fuh face the fullest extent of the law. Ah don't eva want see he back," Drupattee added.
Meanwhile, police in their press release yesterday said that the incident occurred around 15:20 hrs.
Investigations have so far revealed that Samaroo had gone to a shop during which she was attacked and stabbed about the body by her reputed husband. She was later pronounced dead on arrival at the New Amsterdam Hospi-tal.
The release added that the police quickly located the suspect at his home (in Johns Squatting area) where he attempted to commit suicide as he was found hanging from a length of rope in his bedroom. He was taken down and rushed to the New Amsterdam Hospital from where he has been transferred to the Georgetown Hospital under guard.
A blood-stained knife suspected to be the murder weapon has been recovered by the police.
Samaroo and her three children had removed from   the suspect's home about six months ago owing to domestic problems and were residing at her mother.
Twelve women have died at the hands of their spouses for the year. The majority died by knifing.
Comments

-number of redundant workers at 4,763 The National Assembly yesterday approved nearly $2 billion to facilitate full severance by the end of January for a little more than 1,600 of the 4,763 sugar workers that have been made redundant.

Following criticism over government's handling of the restructuring of the Guyana Sugar Corporation (GuySuCo), President David Granger and members of his Cabinet yesterday met with the leadership of the Guyana Agricultural and General Workers' Union (GAWU) and the National Association of Agricultural, Commercial and Industrial Employees (NAACIE) to discuss the future of the sugar industry.
An 18-year-old woman succumbed on Thursday evening, one day after she was allegedly beaten by her common-law husband during an argument at Baramita, in Region One (Barima-Waini).
In his absence, Ganesh Chaitram, who was charged with raping a 10-year-old girl in 2016, was yesterday sentenced to life in prison after a jury found him guilty of the crime.

City councillor Jameel Rasul says he will shortly be resigning his seat after being berated by his group, Team Benschop for going beyond the agreed six-month stint and voting in favour of the controversial parking meters deal.