President Bharrat Jagdeo's recent pledge of some US$30M over the next three years to purchase laptops for 90,000 poor families has attracted a lot of scepticism, including the suggestion that it is an election campaign gimmick.
The announcement was made two weeks ago at GT&T's official launch of the Suriname/Guyana-Submarine Cable System (SG-SCS), which is the backbone on which its e-magine broadband service was rolled out.
While Information Technology (IT) professional and human rights activist Vidyaratha Kissoon felt it was important for any government to ensure there is universal access to telecommunications and related technology, he was concerned that there seemed to have been no effort to find out what assistance the poor would prefer. "The government wants to spend about G$66,000 per family on giving access to ICT. What if the families decide that they could use this money to fix a roof, invest in some other income earning activity, [or] buy a Blackberry?" he wrote on his blog.
He noted that global initiatives such as the One Laptop Per Child (OLPC) were based on the philosophy that "education is important to come out of poverty, and that IT could enhance, not replace, access to high quality education."
"What is our vision for education in Guyana? Is it still considered important enough for our development? Which is better – 30 Million US on laptops, or on paying more teachers better salaries, improving training and having them more accessible to poor families who could also get the books, the clothes and food to attend school?"
Kissoon added that there were children in Guyana today who could not learn because they were hungry and he asked how IT people, the president and others could ensure that those families eat so they enjoy the benefits of the laptop and other poverty reduction strategies. "This IT man believes that no child should go hungry in Guyana and that all children should have access to a high quality education with teachers who will help to remove illiteracy and to encourage learning.  The children and their families should also have access to services – health, housing, work, security, good governance- and ICTs could enable the delivery of these services and IT people should be kept happy and in business by supporting the infrastructure for these services," Kissoon stated.
President Jagdeo has been speaking about computers in most homes since the early 2000s and at the launch he said this had not been realised because of the uncertainty about internet access but he noted that with the introduction of the cable the plan could now proceed.  He added that it would help generate the demand to sell the bandwidth GT&T has available. However, the president acknowledged that those families may not be able to afford broadband service initially and may receive some assistance from the state. Jagdeo also touted widespread broadband access as a developmental tool which he said the entire region should pursue. He said, "We spend hundreds of millions of dollars on roads, on water supply, sewerage etcetera, and those are important but they don't have the same kind of transformative impact on our society if we were to spend this on broadband access plus the instruments for all of our households. The educational industry could see a boom in our region and we can probably offset some of the loss of competitiveness in the traditional trade areas that we are accustomed to."
Stabroek News tried contacting several other IT professionals and educators to get their views but many were reluctant to comment on the initiative. However, the newspaper's online report on the announcement attracted 178 comments, many of which questioned the wisdom of the plan.
Some commentators saw the initiative as a way to ensure GT&T recouped its investment, with one likening it to the practice of the telecommunications company giving away cellular phones. "They will make every single cent back from these laptops. If you give the people laptop and charge them [the] extra dollars for their internet services they will make that 30 mil back easily. It is the same thing Digicel and others did and guess what, nearly every person in GT owns a cell phone," one wrote.
Another called for training for the recipients of the government's largesse. "Jagdeo should first spend some of the money to train the would-be recipients how to use computers before he gives it to them. Otherwise it will be an exercise in futility. Before buying a car for your kid, you first make sure he/she knows how to drive one. A noble gesture, but Jagdeo has no vision. No advanced planning. Another PPP ploy to get votes. You give computers to people based on skills and need, not poverty, or else they would end up being sold to the 'rich' for little."
Yet other commenters noted the unreliability of the power supply and the necessity of ancillaryl equipment to protect the machines, saying this would be another expense for the poor families. However, many persons were of the opinion that the computers should go to schools instead.
"One method of distribution would allow the schools to determine meaningful use. Hand out these laptops to students who show a desire to learn. This will encourage parents to send their kids to school and it would also provide an excitement and enthusiasm for learning," was one suggestion.  "I would have preferred the president donate the laptops to high school students to aid them in their educational upgrades instead of to every family household, I believe he means good in his intentions, on the other hand it would be better to 'feed and house the nation' instead, or make education free from nursery to university like we had before," another said.
Another called for the initiative to be supported by an effort to ensure computer labs in all schools and Learning Resource Centres in Guyana. "The Ministry of Education was challenged to equip these centres over the years. This initiative will not succeed unless these centres and schools are included in this gesture. The better approach would speak to issues of sustainability. This will require looking at staffing, maintenance in addition to a planned curriculum and strategies to ensure yearly replenishments both for replacement and for new students each year."
According to the commentator, "a one-time gift is more of a gimmick."
However, not everyone was skeptical about the initiative with one commentator stating that Jagdeo's name would enter the history books as "the president who ushered Guyana out of the Twentieth Century and brought it into the first decade of the Twenty-First Century."
Another stated that IT was the way to go and that education of the people was the most important thing in modern societies. "More jobs will fall in place as technical skills improve. This is a massive boost to the children in Guyana."
Another wrote, "This really is a superb parting gift President Jagdeo makes to the children in Guyana. The importance of giving children access to websites like Wikipedia cannot be over-stressed. This new project gifts to Guyana's children some fantastic learning tools and the children should be pressed by their parents to use and not abuse the gift of unfettered internet access. Let us hope too that Guyana's schools are alert to change their curriculum to reflect the new availability of these facilities."
Comments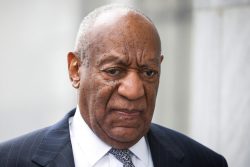 NORRISTOWN, Pa.,  (Reuters) – Comedian Bill Cosby was convicted today of drugging and sexually assaulting a onetime friend in 2004, marking the first such conviction of a celebrity since the #MeToo movement that has brought down rich and powerful men for their treatment of women.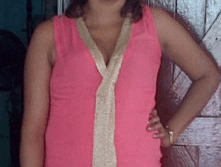 A man was earlier today charged with the 2016 murder of Shonette Savory.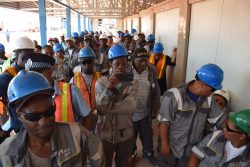 With the jobs of over 500 bauxite workers hanging in the balance because of US sanctions against Russian billionaire Oleg Deripaska, government ministers yesterday flew into Kwakwani to assure them that there will be minimal impact on their lives.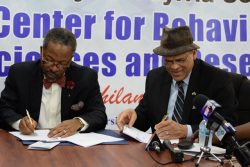 The University of Guyana has signed an agreement with the US-based Jay and Sylvia Sobhraj Foundation to refurbish and convert the building that formerly housed the Spicy Dish restaurant into a state-of-the-art behavioural studies and research centre at a cost of US$400,000 or some $80 million.