Guyanese sculptor Donald Locke died at home in Atlanta, Georgia yesterday.   Locke was born in Stewartville in 1930. Information from Indra Khanna said that Locke was first introduced to art at a free class called the Working People's Art Class taught by E.R. Burrowes.
He attended this to pass an exam needed to qualify as a teacher.  He said, according to the announcement from Khanna, "I was converted instantly.  I became an artist, all in my head of course, and my life was changed forever".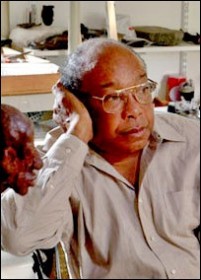 He continued his studies in the UK Bath Art School and did a degree in Fine Art at Edinburgh.  Back home in the 1960's he was part of the creative elite who shaped art after Independence, using the language of modernism allied with traditional motifs to help mold a new International Style, Khanna's death announcement.
Locke's work, mostly sculpture, was influenced as much by native cultures and vernacular myth as by classical European tradition, the announcement said. "He seamlessly fused these elements, integrating influences of his various ancestries (Africa, Asia, European).  His last two years have been incredibly productive, with solo shows in the UK and the US, the birth of a new body of works in ceramics, and the celebration of his 80th birthday."
With his first wife, the artist Leila Locke, he had three children,  Corinne, Jonathan and Hew.
Comments

A section of the Kitty Public Road is to be closed from Wednesday as the Ministry of Public Infrastructure steps up road works in the area.

Anil Nandlall Former Attorney General Anil Nandlall today rejected an explanation by Minister of State, Joseph Harmon over the government's directive to the Police Service Commission to halt promotions.

The improvised weapons (Prisons photo) Prison Staff this morning with the support of the members of the other services, reported for duty at the new holding area lusignan Prison.

Nicolas Maduro CARACAS/LIMA, (Reuters) – A group of 12 regional nations plus the United States rejected Venezuela's new government-allied legislative superbody, saying they would continue to regard the opposition-controlled congress as the country's only legitimate law maker.

Eighteen prisoners at the Lusignan penitentiary were being treated for injuries last night following a reported attempt to kill a fellow inmate during which warders fired shots.