The Guyana Table Tennis Association (GTTA)/National Sports Commission Mini-Cadet, Cadet and Junior Table Tennis Tournament was launched yesterday under the auspices of the Business School.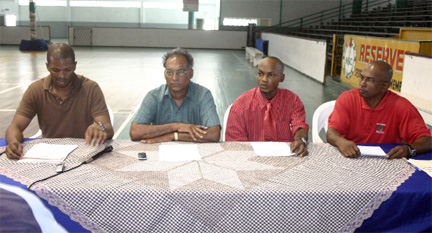 The team tournament which will be a three-day event is scheduled for January 28, 30 and 31 at the Cliff Anderson Sports Hall (CASH). It will feature teams from the 13 and under to the 18 and under categories and all players are invited to participate.
According to tournament coordinator Linden Johnson, teams are expected from Berbice, Linden and Essequibo. General Secretary of the GTTA, Godfrey Munroe, said that the schools that will be targeted are those that benefited from developmental initiatives.
"…some tables were donated, some training clinics were conducted with them in collaboration with the Ministry of Culture, Youth and Sport, the National Sports Commission (NSC) and the Ministry of Education and we (GTTA) are expecting overwhelming responses from these schools," Munroe explained. Munroe, the current national men's singles champion, added James Bovell, of the Business School, had previously sponsored the tournament which was not held last year.
He noted that the sponsorship by the Brickdam-based educational institution was critical to holding an event of this type.  Meanwhile, Munroe stated that the tournament will not be in isolation, especially since the GTTA was seeking to push its schools' development strategy. He said that when the tournament ends, the GTTA will hold follow-up tournaments with a national championship in view.
"We will be looking to build the infrastructure in the schools system so that we can have supervisory level coaching so that our nucleus of players could be as broad as possible," Munroe said.
Munroe also noted that the "cradle of the developmental thrust begins in the schools."
Director of Sports, Neil Kumar, said that he was pleased to be associated with the GTTA's first tournament of the year and challenged the GTTA to run off the tournaments that are geared towards table tennis development.
He said the NSC was willing to sponsor such events to ensure the GTTA runs off a quality championship.
Kumar said that the past year was a relatively successful year for table tennis and the GTTA was one of the national bodies that came on board to help to train teachers.
Kumar also stated that the ministry will be willing to house the teams that will be coming from the rural communities.
Around the Web