The Berbice Cricket Board (BCB) has teamed up with the National Communications Network (NCN) to stage the inaugural  BCB/NCN inter-zone U15 tournament in the Ancient County.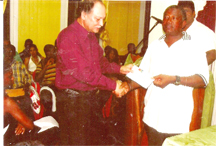 The tournament was launched at State House, New Amsterdam, during the third annual awards ceremony of the BCB.
Chairman of the BCB Special Events Committee,  Hilbert Foster, stated that the U15  tournament will commence  after the conclusion of the Berbice Tenelec Inc U15 competition.
He added that the tournament will  be used by the Junior Selection Committee of the BCB to select this year's Berbice U 15 team.
Four teams, West Berbice, New Amsterdam/East Bank/Canje combined, Lower Corentyne and Central/Upper Corentyne combined will participate in the tournament which will be played on a one-day, two innings format.
Teams will be required to bat for 60 overs in the first innings in an effort to ensure a result.
The fixtures are :West Berbice against New Amsterdam/East Bank/Canje combined and Lower Corentyne versus Central/Upper Corentyne combined.  The winners of the two matches will clash in the final which will  be broadcast live on NCN Radio.
In a departure from the norm, instead of monetary incentives, the winners will receive educational materials in an effort to get young cricketers to make education the main goal in life. Chief Executive Officer (CEO) of NCN Mohamed Sattaur, whilst handing over a cheque for $178,000 to the BCB president Keith Foster, said his company was pleased to be associated with Berbice cricket which was on the move in the right direction.
Sports, Sattaur said, was an important avenue in the development of youths and NCN will continue to support sports in the future.  He noted that it costs NCN close to $300,000 US to bring cricket each year to the cricketing public which was done because of the importance of the game to Guyanese. He expressed confidence in the BCB's ability to deliver on its commitment,  a successful tournament and urged the board to continue its work and to expand the game throughout Berbice. The BCB said they would like to express gratitude to the management and staff of NCN especially Sattaur, Faizal Jaffarallyand Raymond Azeez, for the role they played in cementing the sponsorship.