The Guyana Rugby Football Union (GRFU) yesterday officially launched its logo for the upcoming Central America and Caribbean Games to be held at the National Stadium on July 24 and 25.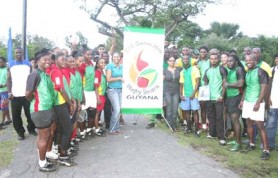 GRFU President Kit Nascimento, stated that the logo, which was designed by Bernard Ramsay, will now be visible in all their marketing ventures between now and the CAC Games in July.
Nascimento gave plaudits to GT&T for its tremendous support to the sport by taking on the job of marketing the tournament.
"GT&T has taken on the job of marketing this tournament for us… Cellink has embraced rugby to a very large extent and I hope that their support will put rugby on the map," Nascimento said.
Cellink representative Wanita Huburn said GT&T believes the local rugby team is destined for success and so is "putting its money where its mouth is".
She said that while cricket is the chief sport in Guyana rugby has slowly been making its way out from "under the carpet" and becoming a widespread sport both in Guyana and on the international scene.
The Guyanese male rugby team last year won their fourth consecutive victory at the Caribbean Sevens Championship and also performed well at the International Rugby Board (IRB) Sevens World Series in Las Vegas.
In addition, earlier this year discussion began between the International Rugby Board and the International Olympic Committee to have rugby included as an Olympic sport in the upcoming 2016 Olympic Games.
This will be the first time that CAC games of any kind will take place in Guyana.
In addition to the CAC games GRFU rugby teams are scheduled to attend the Commonwealth Games to represent the North American and Caribbean region in October. The union is also hopeful that they will also be able attend the Caribbean 15-A-Side Championship to be held in the Bahamas.
Additionally, the president wishes to hold a tournament before the games in order to facilitate the athletes' development but states that financing is a significant impediment. The bulk of the GRFU's finances come from an annual trust grant from the IRB to support the development of rugby in Guyana.
Nascimento said while the government has made a fair contribution to support tournaments monies are still needed to support the pursuit, and he hoped corporate Guyana will lend a hand.
Around the Web