Representatives from Giftland OfficeMax, Fitness Express, and Windjammer International Cuisine & Comfort Inn on Friday afternoon handed over their contributions to members of the HRC Organising Committee, just days before the Second Hugh Ross Classic (HRC) Bodybuilding and Fitness Championships are held.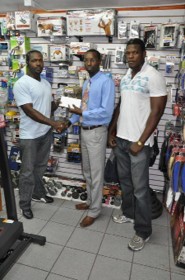 Marketing Manager of Giftland OfficeMax Compton Babb said the store was pleased to be playing its part in such a prominent event. "This is our first time and we know that it will be successful and we intend to maintain support of the Classic. It is no secret, our commitment to sports and its development in Guyana and this company will continue to maintain this trend."
Manager of Fitness Express Jamie Mc Donald stated that bodybuilding is the mother of all sports and is of the view that supporters and fans are in for a treat come competition night when competitors (male & female) will clash in six categories, apart from the overall pose down for the Mr. Hugh Ross Classic title.
"I've been following the sport and am impressed with the hard work and dedication of the athletes. I must also compliment the HRC Committee for bringing off such a competition which not only would assist and stimulate the growth of the sport but will also get others involved as a means of staying fit and healthy."
Manager of Windjammer International, Aretha Campbell in brief remarks reminded that they were integrally involved in the first Hugh Ross Classic and therefore had no hesitation in lending support again.
"For us this competition showcases the best bodybuilders, both male and female, and we are delighted to be a part of this show. We would also like to encourage more females to get involved in the sport."
The HRC Bodybuilding and Fitness Championships are set for next Sunday at the National Cultural Centre. Trinidad and Tobago's IFBB Professional Bodybuilder Candice Carr-Archer is set to guest pose at the event.
Around the Web