New Amsterdam caught a bit of the cricket fever when the International Cricket Council 'Bring It' bus tour entertained a crowd at the New Amsterdam market yesterday.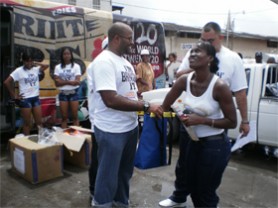 The tour to Berbice was the third of four bus tours in Guyana aimed at promoting the upcoming International Cricket Council (ICC) World Twenty20 Cricket Tournament, six of whose matches will be held at the Providence National Stadium.
The first two bus tours went to the Stabroek Market Square and the seawall, while the last tour  will take place today in Parika.
In New Amsterdam an ample crowd of onlookers braved the sun to catch the 'Bring It' hype, and in the hope of winning one of the prizes.
The crowd continued to grow as curious passers-by attracted by the bubbly music and the throng stopped to see what was happening. A few minutes of rain briefly dampened the proceedings, but the audience returned in even greater numbers once the shower had ended.
Presided over by the antics of comedians Linden 'Jumbie' Jones and Kirk'Chow Pow' Jardine, some onlookers were cajoled into participating in the activities to earn promotional prizes, while others readily volunteered to take part.
Two dancers gyrated as volunteers answered trivial cricket questions and competed in games to win ICC World Twenty20 T-shirts, bumper stickers and cricket horns.
Ten persons were given the chance to win a ticket voucher for one of the matches that will be held in Guyana.
"Oh God, I never win anything before in my life," one woman exclaimed, after winning her ticket, "and I badly wanted to go cricket. I love my cricket."
Others expressed their appreciation that the bus came to the county, giving them a chance to experience some of the cricket excitement since they would not be able to make it to any of the matches.
The 'Bring It' Bus Tour has also been carried to other countries in the Caribbean in a bid to generate excitement for the tournament which hits off at the Providence National Stadium on April 30.
Guyana's bus tour manager, Imran Khan, said, "We try to reach out to the different areas. Obviously Georgetown because that is the capital city, but we didn't want everything centred in Georgetown so we came to Berbice and tomorrow we will be going on the West Bank to Parika.  In terms of what it was geared to do it's definitely achieving that… you can see the crowds," Khan said
Khan said that the tour is also intended to inform people that this time around, they will be able to enjoy their cricket at Providence 'Caribbean style.' Ticket-holders will be allowed to bring their own refreshments, a privilege which was not extended to them during the 2007 ICC World held in the Caribbean.
Around the Web