Berbice retains championship honours in the GTM/Guyana Cricket Board (GCB) one-day under-19 inter-county cricket competition despite heavy rain having the final say in the match that was reduced to a 39-over affair at the Police Sports Club ground, Eve Leary.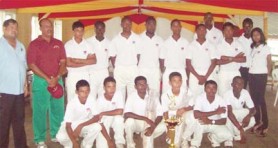 After play began at 11:15 hours, Berbice raced to 71-3 off 18 when another downpour came and finally brought proceedings to an end. Berbice ended on five points, the highest of the three counties, while Essequibo grabbed the runner-up position with four and Demerara, in the cellar position, on two.
President of the GCB Chetram Singh at the presentation ceremony congratulated Berbice for retaining the championship and he thanked GTM for their continued relationship over the past three decades.
He also stated that a 26-man squad will be named shortly to commence preparation for the upcoming regional under-19 tournament, scheduled to be held in St Lucia in late July.
Around the Web