Georgetown's top wards in the Mackeson National Super Wards Basketball Championship continued their winning streak Saturday night at the Cliff Anderson Sports Hall after they hammered Christianburg and Central Mackenzie in the last of the preliminary round matches.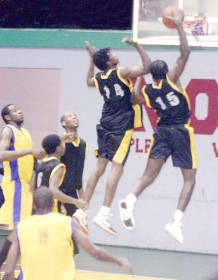 Albouystown-Charlestown beat Central Mackenzie and claimed the top spot in Group B with a convincing 66-52 win.
Central Mackenzie's Steve Neils Jnr lit the baskets up early from beyond the arc 10 seconds after jump ball and the threes didn't stop there as Central Mackenzie got on the early offensive with a number of three pointers. Marvin Hartman added another shortly after and Huntley Harting followed suit for the Linden squad and gave Central Mackenzie the lead at the end of the first quarter 17-14.
Albouystown-Charlestown star guard Kevin Joseph sat out the first quarter but got straight to business within seconds when he came out in the second quarter with an early shot from three-point range to give his team the lead, but his shot was quickly answered by Harting.
Some well coordinated passes and another long range shot from Joseph gave Albouystown-Charlestown the lead at halftime. They maintained it throughout the third even as Harting continued to sink three pointers, due to some good inside work from their high jumping forward Travis Foster and Dwayne Roberts who were ripping most of the offensive and defensive rebounds from the taller Central Mackenzie inside men.
With four minutes remaining, Central Mackenzie got on the offensive again but this time they weren't hitting baskets as they did earlier in the game, and they fell short by 14 points.
Dwayne Roberts and Ridwell Fortune ended the game with 20 and 16 points respectively for Albouyston-Charlestown.
Steve Neils netted 15 for Central Mackenzie, while Marvin Hartman and Harting shared 12 points each.
Prior to the Albouystown-Charlestown victory, North Ruimveldt's usual stifling defence helped them to remain unbeaten with a 76-65 win over Christianburg.
Christianburg found it hard to get the ball in the paint as North Ruimveldt's pressure defence forced numerous turnovers from the Lindeners until Christianburg tired and it was visibly over even before the end of the final period.
Ryan Stephney led North Ruimveldt's scoring with 24 while Nkossi Gorrick, Navin Grenville and Trevor profit each totalled 11 for Christianburg.
Around the Web