The Guyana Motor Racing and Sports Club (GMR&SC) drag-racing meet at the South Dakota Circuit yesterday was forced to abandon the day's scheduled events because of the heavy showers although grudge matches were held.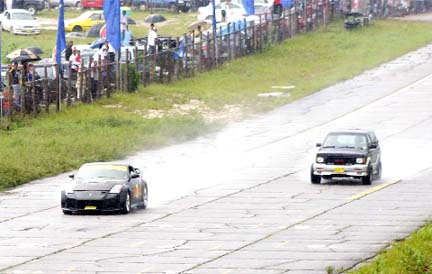 Drag-racing was scheduled to be contested in four groups, Group-A (0-1600cc), Group-B (1601-2000cc), Group-C (2001-2200cc) and Groups-D1 and D-2 for four and two-wheel drive cars, as well as in an open class for superbikes.
However, due to the inclement weather the races were not contested in the respective groups and most races were grudge matches for bragging rights and for the crowd's entertainment.
Spectators were entertained as some of Guyana's finest braved the showers and limited visibility to compete in the stakes for the fastest car or the most thrilling, challenging the Suriname invasion.
A number of high-powered cars from Guyana's eastern neighbour including Hance Yver's powerful black Typhoon lived up to the warnings they had issued prior to the race meet, but they met tough competition from the local drivers.
The locals left the visitors in their trail of mist and smoke in the first set of races, but after the Surinamese drivers got settled and adapted to the conditions, their super-charged machines such as the Toyota Supra and Nissan Z350 moved ahead of the locals to cross the finish line.
Emphasis was placed on power as the thunderous revs of their Chevrolet Corvette attracted a swarm of spectators around the vehicle and left everyone anxiously anticipating its arrival on the track. Unfortunately the Corvette did not compete, but circled the track a few times to the delight of the excited supporters.
Racing fans also didn't get to witness any super-bike action as they remained strapped to the tray of the pick-up because they were unable to compete on the soaked track.
Around the Web