The Guyana Defence Force (GDF) yesterday made a substantial donation towards the hosting of the 2010 Hugh Ross Classic Body Building and Fitness Championships set for the National Culture Centre on Sunday.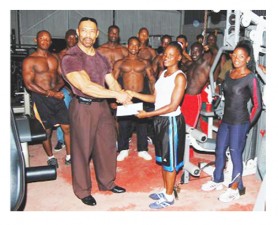 Guyana's renowned body builder, High Ross, received the donation when he paid a visit to Base Camp Ayanganna to speak to the GDF team that will be participating in the event.
GDF's welterweight champion, Michael Simon is gearing up to compete in the light-heavyweight category while Patrick Bristol and Devon Davis are muscling up for competitors in the lightweight category.
Simon will be competing alongside teammates Devon Boatswain and Daison Campbell while Kevon Waddle and Victor Logan are the representatives for the GDF in the middleweight category.
Meanwhile, Kascia Beaton, Dacia Junor and Alisha Fortune are billed to compete for the army team in the Ms. Body Fitness category.
Around the Web