Junior National Cycling Champion Neil Reece returned home with a gold and a silver medal after representing Guyana at the Beacon Cycling Festival in Trinidad and Tobago from April 15-25.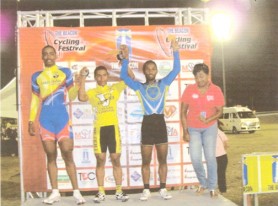 The 17-year-old Reece competed in three events at the festival which attracted international cyclists from around the world. He blew away the competition in the four-lap event to take first place and secure the gold medal.
Reece then copped silver in the 14-lap open event, which is the big league race of the festival. This was the first time Reece was competing in the 14-lap event and while he faced tough competition, he held his own against older riders from Italy, England, Barbados, Trinidad, and other regions to finish second.
He also put up a solid performance in the five-lap event but fell short of a podium position when he came in fifth.
Speaking to Stabroek Sport on Wednesday, Reece said that this year he had trained hard and was well prepared for the cycling festival although "the competition was stiff this year."
He added that he took a while to settle in on the track because he arrived in Trinidad only a day before the festival began. Reece said that if he had arrived earlier and had more practice time on the track he would've delivered a better performance.
Reece was accompanied by his coach Randolph Roberts who also stated on Wednesday that while they have just returned from the cycling festival in Trinidad, Reece is already preparing for the Junior Caribbean Championships in Aruba this July.
Meanwhile, both Reece and Roberts acknowledged the contributions of the sponsors, A. Ally and Sons, Water Chris Hotel, Spready's Bakery, Poonai's Pharmacy, Amerally Sawmill, Baijnauth and Brothers Sawmill and all the other persons who supported their trip to the cycling festival. (Floyd Christie)
Around the Web