By Tamica Garnett
There was no doubt that world-renowned stuntman Alexandre Sampaio was the main attraction at the Fast and Furious Regatta held at Splashmins Fun Park and Resort yesterday.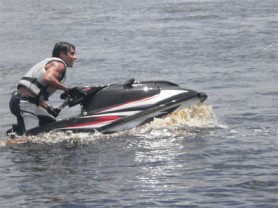 Making some compensation for the confusing boat races, Sampaio's three, stunt shows were the only events that saw spectators getting up and noticing that this was not just another ordinary weekend at Splashmins.
Thrilling some spectators, the event nevertheless did not go without some tribulations. For those spectators who did not get to their feet, they received a peripheral view of the stunts, as viewers were spread out along the beach while the stuntman centralized his show to the fore of the lake.
Moreover, Sampaio marginally cut short his third stunt show after three boats were in the water during his act, something he claimed he continually asked to be prohibited.
"I asked for no boats in the water, but it keeps happening.  When I do what I am doing, I back everyone. Those boats could kill me. So that's it, I'm done. This is very disrespectful," the Brazilian stuntman angrily stated.
Meanwhile, the Regatta, which was supposed to be the main course of the day, left much to be desired for many spectators.
The boat races which commenced the day's events began with challenges and saw more developing as the day progressed. As the races proceeded the setbacks from faulty boats to fuel shortage occurred as the fuel supplied proved to be insufficient for the day's activities
With only three categories, the limited number of participating boats left the races monotonous as the same boats kept participating in the various races which saw few changes. The small circuit which made the races short in no way helped this situation.
Racers from the big 225 HP engines said that they were not able to utilize the full potential of their boats because of the circuit's capacity. However, they were there to compete not to complain.
"The circuit is very small. It's hard to find the true power of your engine. By the time you find your true power you have to turn so you have to slow down, so there's no way to let your engine do all that it can do," competitor Dave Scott stated.
"But we just trying to put up a show," he added.
While the racers put on an above average show, the disorganized posture of the events left viewers confused and disinterested. Because of the restricted number of boats the first few races were  a general forecast of all the other preceding races with few motivating changes occurring.
With a late start and with some boats arriving late, or not at all, the races kicked off with the limited competition available, starting with the 90 HP Outboard four-lap race.
This race had descending challenges with four boats registering, three boats taking part, and only two boats finishing the race. Monty Belle, who registered for the race, was withdrawn by default after he failed to arrive in time to participate.
Henry Da Silva and his 70 HP boat `Passa Passa' took first place and Ganesh Singh second driving `Angcam' while Mark Fagundes was forced to cut short his competition when his boat, "Jet and Trailer", began to experience engine trouble during the race.
Belle, who arrived to compete in the remaining 90 HP races, resigned Singh into third place when his boat `Sir Conan' skidded into  second place behind `Passa Passa' in the 90 HP Drag race.
Fagundes' `Jet and Trailer' returned to take first place in the final 90 HP race as DaSilva's `Passa Passa' was unable to participate. Belle and Singh came in second and third, respectively.
The first two 225 HP races saw Rundy Belle shooting to victory in `Wave Runner', followed by Dave Scott with `Jaguar' second and, since they were the only two participating parties, last as well.
Bartica Easter Champion, Rundy Belle continued to dominate the 225 HP categories throughout the remaining two races, as no racer proved competitive enough to come close to `Wave Runner's' performance.
The five laps 225 HP race saw new addition Clarence Belle taking third place after his boat `Quick Silver' experienced some difficulties and gave a wobbly performance.
These difficulties were evidently put to right when Belle returned to put `Jaguar' in third place in the final 225 HP race.
Jet Ski races began with the two- lap race with Hamley Martindale in first and Bobby Rasul second.
The second Jet Ski race saw nothing more than a rearrangement of placing, as a determined Rasul upped his game and returned to claim first place in the three-lap race.
The final Jet Ski race saw two false starts and left Martindale confounded  when the race actually started. Never being able to pick up from his late start Martidale came in third behind Rasul, who could not catch up to newcomer Kirk Paton from Georgetown. To the cheers of a small crowd Paton left no doubt that Rasul and Martindale were fighting for nothing more than second place.
The Regatta continues today promising more events and excitement.
Around the Web