By Marlon Munroe
West Indies Coach Ottis Gibson intends for his side to continue moving forward after it opened its campaign for the ICC World T20 title on a positive note on Friday at the Guyana National Stadium at Providence.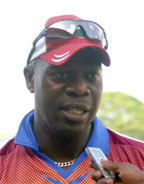 Gibson said he was particularly pleased that the team elevated its level of play in the absence of Captain Chris Gayle who was rested after an old back injury surfaced ahead of the team's opening match against Ireland.
At the team's practice session yesterday at the Georgetown Cricket Club (GCC) ground, Bourda, Gibson said that Gayle was rested as a precautionary measure but added that it was possible that he could be available for tomorrow's match against England.
"He has had a back injury for a while and when he woke up yesterday morning (Friday) it was stiff. We tried yesterday afternoon to get going and he did not feel that he could go and make the sort of contribution he needs to make as a leader so he stood down," Gibson added.
However, Gibson said he believes that his team was  a good team despite the middle order faltering on occasions.
The Barbadian said he was impressed with the way Man-of-the-Match Darren Sammy inspired the batting down the order and later returned to take three wickets and was involved in four other dismissals.
"It is a good, strong team that is progressing nicely and obviously did not get runs but the lower order took care of business and that is what strong teams do," the former West Indies pacer said.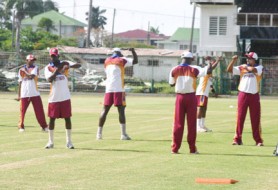 Of the upcoming game against England, Gibson revealed that the nature of the victory against Ireland will give the team the scope and confidence to beat England, more particularly since it was done often in the past. He acknowledged though, that England will test the strength of the Caribbean side more than the Irish had.
He explained: "We know that England will be a stronger test and we have to steel ourselves for that sort of test. We have to stay together and, of course, you will hope that your middle order perform a little better than they did yesterday (Friday)."
Gibson, who replaced Australian John Dyson as WI head coach last year, said he believes that his team when it is at full strength can match any of the top teams in world cricket. He referred to the to IPL's number one buy this year Kieron Pollard, should he show his characteristic power hitting, and other players in the line-up as having the ability to take the WI past their semi final showing in last year's tournament.
With this belief, Gibson told Stabroek Sport that the team was being psychologically strengthened to believe it can defend any total that it may put on the tins. This train of thought was reminiscent of stand-in captain Bravo, who uttered similar sentiments at the team's post match press briefing.
"Whatever total we have the only job then is to go out and defend it as best as you can. If you look at last night (Friday night) it came down to the bowlers to execute; they were absolutely fantastic, you could not have asked for more from a bowling side.
"If we bat a bit more convincingly against England and we can continue to bowl like that then there is a good opportunity for us to first get out of the group (D) with two wins and then move into the next round full of confidence," the 41-year-old maintained.
Gibson, who played two Test matches and 15 ODIs, reported that fast bowlers Ravi Rampaul, breakout  player Kemar Roach and Jerome Taylor, who is undergoing strength training after injury kept him out of cricket for over three months, have been working very hard. He said that their work ethic has been good and they too will prove useful tools for the number eighth ranked team on the ICC's list.
Gibson said that this fight by his team is to also bring the fans back to WI cricket because there is the consensus that some of the repellent performances of the past may have left them with a feeling of disenchantment.
"Performing the way we did last night can only go a long way bringing the fans back so we are hoping that on Monday the fans come out again and support in return for a good showing", Gibson assured.
Around the Web