– West Indies skipper set to play against old nemesis England today
The West Indies team is set to have its inspirational captain Chris Gayle back for today's game against old nemesis England at the Providence National Stadium.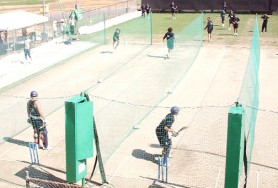 At the West Indies press briefing yesterday  Gayle told reporters that he was likely to play today unless when he wakes up tomorrow his niggling back injury tells him differently.
Gayle missed the West Indies team's opening game against Ireland on Friday after the old back injury flared up following the team's warm-up game against New Zealand last Wednesday.
The West Indies team defeated Ireland in their opening match of the ICC T20 World Cup competition by the handsome margin of 70 runs and Gayle's return is likely to pose some problems for the selectors.
According to reports all the players are available for selection but the selectors were still trying to come up with the right combination to play the Englishmen.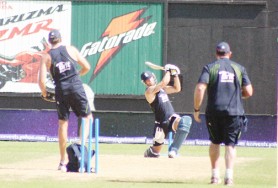 The West Indies team is full of confidence after winning their opening fixture mood that not even a few niggling injuries to some of the players can shake.
The rivalry between Group-D's top teams  continues today from 13:30 hours.
Both teams will be looking for a win although the Caribbean side, already with a win under their belt, should be feeling less pressure.
The return of pacer Jerome Taylor and left-arm spinner Sulieman Benn adds depth to the bowling attack but the likes of Gayle, Shivnarine Chanderpaul, Ramnaresh Sarwan, Kieron Pollard, Dwayne Bravo and Darren Sammy should be the nucleus of the team.
With Gayle expected to take his rightful place at the top of the order, the fragile middle order batting is again the main cause for worry.
Meanwhile, the Englishmen conducted their practice session yesterday at the stadium shortly after the Windies side.
The team is raring to come up against the marood-clad West Indies side which beat them a few year back in Allen Stanford's winner take all US$20 match.
England will look to field its best team for today's contest as a win would most likely send them through to the next round.
Around the Web