By Kizan Brumell
Mahela Jayawardene scored the second century of the ICC World Twenty20 Championship in classical fashion and in the process helped Sri Lanka to record their first victory at the Guyana National Stadium, yesterday.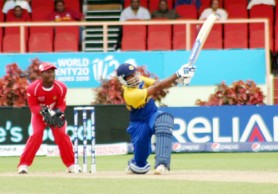 Sri Lanka won the toss and scored a challenging 173 – 7 in their allotted overs then had Zimbabwe 29 – 1 after five overs when rain interrupted play and sent the game to be decided by the Duckworth/Lewis (D/L) method which in turn gave Sri Lanka the upper hand because of their superior run rate.
Rain paused play one over into Zimbabwe's  innings for more than 30 minutes causing overs to be deducted. When play resumed Zimbabwe needed 106 to win from 11 overs and after facing four more overs rain stopped play again for the final time.
After it continued for just over 20 minutes the D/L method came into play again and gave Sri Lanka their first points.
In Sri Lanka's innings Jayawardene slammed 10 fours and four sixes in his 64-ball 100 which was constructed with genuine cricket shots. That knock surpassed his previous highest score of 81 made against New Zealand on Friday at the same venue.
Thissara Perera and Chamara Kapugedera were the only other two batsmen to reach double figures.
Perera made a quick fire 23 and shared a 56-run partnership with Jayawardene before he was caught in the deep by Elton Chigumbura off of a Greg Lamb delivery.
Skipper Kumar Sangakkara, Dinesh Chandimal and Angelo Matthews were all removed cheaply while the centurion pressed on at the other end before being dismissed in the 19th over.
He mishit a shot and it took the aerial route and comfortably landed in the hands of Ray Price at mid off.
Both Price and Lamb claimed two wickets each for Zimbabwe while skipper Prosper Utseya, Chigumbura and Graeme Cremer picked up one wicket each.
The post game interview was attended by Sangakkara and Jayawardene who both stated  that they were very elated with the victory.
"We are relieved that we had the change to get a very good run rate especially in a situation like this and we all owe that to Kumar. It may not be the type of victory we were looking for but we won so we're very happy," said Jayawardene.
He added that coming into the game with a loss under their belt, the guys were urged to just stay focused and play good cricket.
Zimbabwe will play their final Group match against New Zealand today from 9am to decide whether they will be moving on to the next round.
SCOREBOARD
SRI LANKA
M Jayawardene c Cremer b Price                         100
T Dilshan c Mpofu b Chigumbura                               2
T Perera c Chigumbura b Lamb                                23
*+KC Sangakkara c Price b Cremer                           3
D Chandimal c Mpofu b Utseya                                   9
A Mathews c Ervine b Lamb                                         4
C Kapugedera c Masakadza b Price                         13
S Jayasuriya not out                                                       3
L Malinga not out                                                             2
Extras (lb5, w9)                                                               14
TOTAL (7 wkts, 20 overs)                                        173
Did not bat: S Randiv, A Mendis
Fall of wickets: 1-24 (Dilshan, 2.1 overs), 2-80 (Perera, 8.4), 3-96 (Sangakkara, 11.1), 4-113 (Chandimal, 13), 5-138 (Mathews, 16.2), 6-166 (Kapugedera, 18.5), 7-166 (Jayawardene, 19)
Bowling: Mpofu 3-0-27-0, Price 4-0-31-2, Chigumbura 2-0-21-1, Lamb 4-0-34-2, Utseya 4-0-32-1, Cremer 3-0-23-1,
ZIMBABWE (target: 44 runs from five overs)
H Masakadza run out                                                    4
+T Taibu not out                                                           12
B Taylor not out                                                            11
Extras (w2)                                                                        2
TOTAL (1 wkt, 5 overs)                                              29
Did not bat: C Ervine, E Chigumbura, C Coventry, G Lamb, G Cremer, *P Utseya, R Price, C Mpofu.
Fall of wickets: 1-10 (Masakadza, 1.5 overs)
Bowling: Mendis 2-0-9-0, Malinga 1-0-6-0, Jayasuriya 1-0-8-0, Randiv 1-0-6-0
Result: Sri Lanka won by 14 runs (D/L Method).
Points: Sri Lanka 2, Zimbabwe 0.
Player-of-the-Match: M Jayawardene.
Toss: Sri Lanka.
Umpires: Billy Doctrove, Ian Gould; TV – Steve Davis.
Matchreferee: Alan Hurst (Australia)
Around the Web