By Marlon Munroe
The West Indies cricket team strolled to its second win in the ICC World T20 World Championships defeating England by eight wickets  yesterday at the Guyana National Stadium after rain forced the game to be decided on the Duckworth/Lewis system.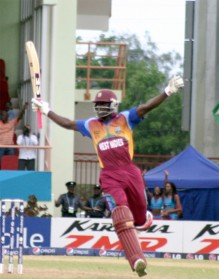 The win ensured the team's smooth passage to the super eight round of matches.
West Indies, who were initially set 192 for victory,  eventually reached 60-2 from 5.5 overs after an 81-minute rain delay.
When the showers came at 15:19 hours WI's Captain Chris Gayle and Shivnarine Chanderpaul were scoring way above the required run rate of 9.55 (12. 3) to reach 30-0 after 2.2 overs.
When play resumed WI needed to score 30 more runs from 22 balls. Gayle, restarting on 16, lofted off spinner Graeme Swann over wide long in the fourth over before succumbing off the very next ball caught at midwicket by Michael Yardy for 25.
Gayle's innings was laced with four boundaries (2×4, 2×6) and came off only 12 balls.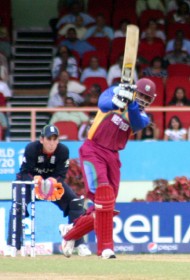 Drama is to be expected whenever the West Indies play and when pinch hitter Kieron Pollard strolled to the crease, he was smartly stumped two balls after Gayle's dismissal for nought by Craig Kieswetter and suddenly the WI needed 17 runs from 13 balls.
The English bowlers restricted the batsmen to singles but they were also guilty of gifting the Caribbean side eight wides at crucial times.
Chanderpaul, who finished on 15 not out, improved the running between the wicket whilst batting with Andre Fletcher, who took the WI over the threshold with a pull behind square of pacer Stuart Broad to even the score followed by a drive to the sweeper for the winning run.
He finished on an unbeaten 12 from 10 balls. Swann picked up 2-24 runs from his two overs.
When WI started their reply, Gayle got off the mark with a top edge that flew over first slip for four off left arm fast medium bowler Ryan Sidebottom. The next ball Gayle chipped down the wicket to dispatch the delivery  for six to signal the end of the over and Sidebottom's role with the ball.
Chanderpaul joined the run feast when he reverse swept Swann for six.
The two openers seemed to be in a no-nonsense mood but then the rains came.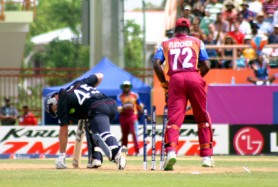 Earlier, when England batted, their first three batsmen got off to positive starts and this, no doubt, charted the course for the rest of the innings. Left handed opener Michael Lumb struck four boundaries in his 18-ball 28 in partnership with Kieswetter, who stroked a belligerent 26 before falling lbw to Nikita Miller.
He offloaded three huge sixes and one four in his 14-ball vigil.
Kevin Pietersen was starting to look ominous at the wicket but his innings of 24 was cut short by man-of-the-match Darren Sammy (Sammy's second award in as many games).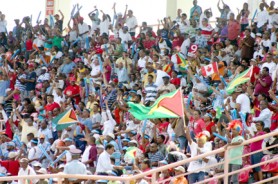 Sammy returned to bowl Captain Paul Collingwood for six as England slipped to 81-3 in the 10th over.
The best was to come though from the Englishmen and the two batsmen played sensibly while still maintaining their team's 9.55 run rate.
In the 18th over they treated pacer Ravi Rampaul with little respect. The first ball of that over saw Wright hitting the bowler for six over midwicket; the second was a no ball and a single was taken before Morgan sent the free hit sailing straight back over Rampaul's head for another six.
He then reverse slapped the Trinidadian for four as that over yielded 27 runs. In the next over though, Morgan mishit a pull and was caught in the square leg region by Pollard off the bowling of Dwayne Bravo for 55. His knock spanned 35 balls and included three fours with as many sixes.
Wright continued his merry way by hoisting two other sixes to end with four in his 27-ball innings. Sammy ended with returns of 2-22 from four overs while Gayle (1-11), Miller (1-29) and Bravo (1-36) finished with one wicket apiece.
SCOREBOARD
ENGLAND
M Lumb b Gayle                                                          28
+C Kieswetter lbw b Miller                                     26
K Pietersen c Sarwan b Sammy                            24
*P Collingwood b Sammy                                         6
E Morgan c Pollard b Bravo                                  55
L Wright not out                                                        45
T Bresnan not out                                                        0
Extras (b1, lb1, w3, nb2)                                          7
TOTAL (5 wkts, 20 overs)                                    191
Did not bat: S Broad, G Swann, M Yardy, R Sidebottom.
Fall of wickets: 1-36 (Lumb, 3.4 overs), 2-66 (Kieswetter, 6.3), 3-81 (Collingwood, 9.3), 4-88 (Pietersen, 10), 5-183 (Morgan, 19.2)
Bowling: Benn 3-0-23-0, Rampaul 3-0-52-0, Gayle 1-0-11-1, Miller 4-0-29-1, Sammy 4-0-22-2, Bravo 4-0-36-1, Pollard 1-0-16-0.

WEST INDIES
*C Gayle c Yardy b Swann                                   25
S Chanderpau not out                                            15
K Pollard st Kieswetter b Swann                         0
+A Fletcher not out                                                12
Extras (w8)                                                                   8
TOTAL (2 wkts, 5.5 overs)                                   60
Did not bat:, R Sarwan, N Deonarine, D Bravo, D Sammy,  N Miller, S Benn, R Rampaul.
Fall of wickets: 1-41 (Gayle, 3.3 overs), 2-42 (Pollard, 3.3)
Bowling: Sidebottom 1-0-15-0, Swann 2-0-24-2, Bresnan 1-0-7-0, Yardy 1-0-6-0, Broad 0.5-0-8-0.
Result: West Indies won by eight wickets (D/L method).
Points: West Indies 2, England 0.
Man-of-the-Match: Darren Sammy.
Toss: West Indies.
Umpires: Tony Hill; Rudi Koertzen; TV – Billy Bowden.
Matchreferee: Alan Hurst.
Around the Web