By Kizan Brumell
The 'Black Caps' comfortably defeated Zimbabwe by seven runs on the Duckworth/Lewis Method at the Guyana National Stadium yesterday and as a result officially secured their place in the Super Eight round of the ICC World Twenty20 Championship.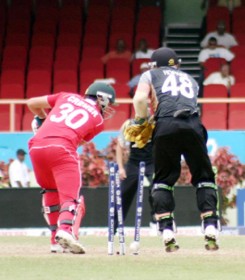 Zimbabwe lost the toss and were given the opportunity to bat first crumbling to 84 in 15.1 overs.
New Zealand's reply's was interrupted by rain for close to an hour bringing the D/L method into play.
With just 85 to get from 20 overs New Zealand came out on a positive note but lost the wicket of Jesse Ryder in the third over to Prosper Utseya with the score on seven.
However, the pair of Brendon McCullum and Martin Guptill added 29 runs in 3.2 overs before the rain again interrupted.
When the rain finally stopped, the D/L was calculated  and New Zealand was found to need four more runs for victory from 11 deliveries in the 10  overs they were now required to bat.
Earlier, Zimbabwe had an uncontrollable collapse in their innings which forced them to post a very uncompetitive total.
Tatenda Taibu and Hamilton Mazakadza were Zimbabwe's main contributors scoring 21 and 20 at the top of the order, respectively while Greg Lamb pitched in with an unbeaten 14.
At one point Zimbabwe were 58 – 2 after six overs before the slide began and they lost eight wickets for just 26 runs.
Nathan McCullum and Scott Styris were the men responsible for Zimbabwe's demise as they both picked up three quick wickets while skipper Daniel Vettori put the lid on things finishing with two wickets.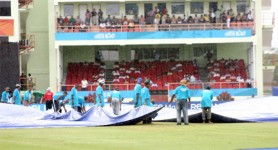 McCullum removed Elton Chigumbura, Craig Ervine and Charles Coventry in the ninth over which cost just three runs.
Styris' three wickets were those of Timycen Maruma, Graeme Cremer and Prosper Utseya who were all removed in the 13th over in the space of four balls.
Vettori bowled beautifully in his spell of 3.1 overs but Tim Southee, though a bit loose, claimed the prize wicket of Taibu.
SCOREBOARD
ZIMBABWE
+T Taibu c Oram b Southee                                 21
H Masakadza run out                                             20
A Blignaut b Vettori                                                  8
E Chigumbura c Guptil b Oram                             3
C Ervine st Hopkins b N McCullum                      1
C Coventry c and b N McCullum                          0
G Lamb not out                                                         14
T Maruma c Guptil b Styris                                     4
A Cremer b Styris                                                       0
*P Utseya lbw b Styris                                              0
R Price b Vettori                                                         2
Extras (b1, lb1, w9,)                                                 11
TOTAL (all out, 15.1 overs)                                  84
Fall of wickets: 1-36, 2-58, 3-60, 4-62, 5-62, 6-63, 7-73, 8-74, 9-74.
Bowling: N McCullum 4-0-16-3, Bond 3-0-20-0, Southee 2-0-18-1, Oram 1-0-13-0, Vettori 3.1-0-10-2, Styris 2-0-5-3.
NEW ZEALAND (target: 45 from 11 overs)
B McCullum not out                                                 22
J Ryder c wkpr Taibu b Utseya                             2
M Guptil not out                                                          6
Extras (w6)                                                                    6
TOTAL (1 wkt, 8.1 overs)                                      36
Did not bat: L Taylor, S Styris, +G Hopkins, J Oram, *D Vettori, N McCullum, S Bond, T Southee.
Fall of wickets: 1-7.
Bowling: Utseya 4-1-21-1, Price 4-0-14-0, Lamb 0.1-0-1-0.
Result: New Zealand won by seven runs (D/L method).
Toss: New Zealand.
Man-of-the-Match: Nathan McCullum
Umpires: Asad Rauf, Steve Davis; TV – Ian Gould.
Matchreferee: Alan Hurst.
Around the Web