By Marlon Munroe
England secured a place in the super eight round after their match against Ireland at the Guyana National Stadium yesterday was abandoned following persistent rainfall.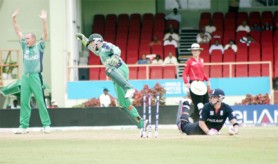 The game was declared a no result after England struggled to 120-8.
Ireland in reply reached 14-1 from 3.3 overs.
Ireland needed to bat for five overs in order for the Duckworth/Lewis system to come into play.
Some 1.2 overs into Ireland's reply a downpour forced the players off the field and when play resumed 10 minutes afterwards, Niall O'Brien (nine not out) and William Porterfield ( four not out) pushed the score to 14-1 from 3.3 overs.
Another shower put paid to the day's proceedings.
England and Ireland were each awarded a point with the former team joining the West Indies in the second round.
Earlier, England's batsmen, sent in to bat by Ireland who won the toss, found it hard to settle against disciplined bowling from the Irishmen.
The opening pair laboured to 24 before Michael Lumb was dismissed for 14 and England lost a second wicket with the score on 32.
Paul Collingwood was dismissed without scoring while Kevin Pietersen fell shortly afterwards for nine as England struggled to 49-4 from 9.4 overs.
However, a face-saving 41-run partnership, the biggest of the innings, between Eion Morgan and Luke Wright added a semblance of respectability to the score.
Morgan topscored with 45 while Wright supported with 20.
Morgan eked five boundaries from his 37-ball innings against stingy bowling
Epitomized by Dockrell who bowled five dot balls in the 15th over before the last ball fell into no man's land behind the `keeper and short third man as the batsmen took a single.
Wickets fell regularly with the Providence Stadium crowd behind the minnows with every inroad they made into the English line-up.
Eventually, England grounded to a halt at 120-8.
Kevin O' Brien and Boyd Rankin had the best bowling figures with 2-22 and 2-25 but Dockrell, the 17-year-old spinner must be commended for his miserly bowling of 0-19 from four overs.
When Ireland started their response left-handed pacer Ryan Sidebottom was pinpoint accurate in his first over with three coming off of it. The score was four when it started to rain but when play resumed O'Brien pulled Sidebottom to square leg and then lifted him over mid off for consecutive boundaries.
Ireland's intention was clear since they needed to have 26 runs after five overs to win the match if the rains were to come again.
Five overs constitute a match in the T20 format after one side would have already batted. With Ireland only batting 3.3 overs the phrase the 'Luck of the Irish' certainly was not applicable to Ireland yesterday.
SCOREBOARD
ENGLAND
M Lumb c Rankin b K O'Brien                        14
+C Kieswetter run out                                      13
K Pietersen c Mooney b K O'Brien                 9
*P Collingwood c Botha b Johnston             0
E Morgan c Wilson b Botha                            45
L Wright c Porterfield b Rankin                   20
T Bresnan c Mooney b Rankin                        5
G Swann not out                                                   7
M Yardy run out                                                  0
S Broad not out                                                     0
Extras (lb4, w2, nb1)                                          7
TOTAL (8 wkts, 20 overs)                           120
Did not bat: R Sidebottom.
Fall of wickets: 1-24, 2-32, 3-32, 4-49, 5-90, 6-109, 7-115, 8-118.
Bowling: Rankin 4-0-25-2, Johnston 4-0-14-1, K O'Brien 3-0-22-2, Dockrell 4-0-19-0, Botha 4-0-29-1, Cusack 1-0-7-0.
IRELAND
*W Porterfield not out                                     4
P Stirling c Lumb b Sidebottom                   0
+N O'Brien not out                                            9
Extras (w1)                                                           1
TOTAL (1 wkt, 3.3 overs)                             14
Did not bat: A Cusack, K O'Brien, D Johnston, G Wilson, J Mooney, A Botha, G Dockrell, W Rankin.
Fall of wickets: 1-4.
Bowling: Bresnan 2-0-5-0, Sidebottom 1.3-0-9-1.
Result: No Result.
Points: England 1, Ireland 1.
Toss: Ireland.
Umpires: Billy Bowden, Tony Hill; TV – Asad Rauf.
Match Referee: Alan Hurst.
Around the Web