By Tamica Garnett
While rain called a halt to most of yesterday's sporting activities, a scrabble tournament thrived beneath the cozy shelter of the Malteenoes Sports Club (MSC)building.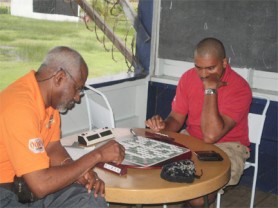 And after six rounds Frederick Collins once again proved why he is the current Caribbean National Scrabble Champion when he walked away with first place in the Arrival Day Scrabble Tournament yesterday.
Collins topped the 16 player field winning five games and ending with a positive spread of 399.
His only defeat was to Moen Gafoor in their fourth round clash.
Collins defeated Ewart Adams, Maurice Munro and gained a walk over from Nicholas Grant (50) before losing to Gafoor.
But after that defeat Collins came back strongly to defeat Yvonne Murray and Orlando Michael.
Gafoor, despite his strong start with five consecutive wins, ended in third position with five games and a positive spread of 276.
James Krakowsky copped second place with five games and 380 positive spread.
Gafoor's loss to Krakowsky in the sixth round effectively cost him the tournament and the second place after he had scored wins over Michael, Wakefield Skeete, Murray and Adams.
Krakowsky, who had earlier lost to Colin Chichester, numbered Ulric Harris, Orlando Michael and Rudolph Michael among his victories.
Ewart Adams placed fourth with four games and a spread of 63.
Around the Web