By Floyd Christie
Stating that the tournament is heading in the right director Guyana's most decorated male bodybuilder Hugh Ross feels that the time may be ripe to make the biannual Hugh Ross Bodybuilding Classic into an annual affair.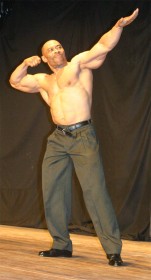 The second Hugh Ross Classic (HRC) took place last Saturday at the National Cultural Centre, and Ross yesterday declared the event as …"yet another successful HRC."
Elaborating on the event's success, Ross said: "This time around there was without a doubt almost 50 percent more athletes involved and the list of sponsors also grew."
He noted that with the contributions from much more corporate entities, it was evident that bodybuilding was becoming more mainstream in Guyana.
"From a sponsorship point of view and athlete's participation, those are two positive indications that we're on the right road," Ross said.
A number of entities gave verbal and monetary support to this year's HRC and Ross yesterday lauded the Minister of Culture, Youth and Sports, Dr. Frank Anthony and Minister of Health, Dr. Leslie Ramsammy whom he had the opportunity to have verbal interactions with.
The USA based Ross stated that the two ministers of the government had been very supportive.
He also recognized the support he received from the Guyana Defence Force (GDF), which also helped to increase participation by bodybuilders in the HRC. "Not only are they supportive, they now have their own bodybuilding club and to that effect, the majority of the athletes who participated came from the army's bodybuilding club."
Ross added that the HRC had also been supported by the Guyana Amateur Bodybuilding Fitness Federation (GABBFF) which provided the entire judging panel and back stage handlers.
The HRC is currently a bi-annual event but Ross stated that perhaps in time to come it can become an annual affair. He added that due to a number of factors this has not yet been done.
"We do not want to, in any way, shape or form, crowd the current program and events that are actually planned by the GABBFF, so currently we have opted for it to be a bi-annual event," Ross said.
Around the Web