Overall winner of the 2010 Hugh Ross Classic (HRC) Championship title Royston Booker received his well deserved prize of one RX Yamaha 100 motorcycle on Wednesday.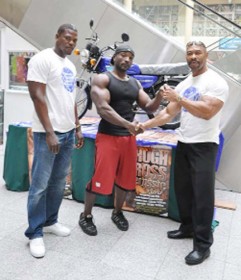 HRC Host Hugh Ross handed Booker the keys to the bike that had been on display at the City Mall for the past few weeks.
Booker said he was very pleased to receive the prize, which was sponsored by Mings Product and Services Ltd and Hadi's World Inc.
Booker, who was competing in only his second competition locally, the first being the inaugural Hugh Ross Classic in 2008, won the Heavyweight Category as well as the overall showdown which also featured the winners of the Bantamweight (Devon Davis, GDF), Lightweight (Marlon Bennett, Total Fitness), Welterweight (Alfred Jordon, Total Fitness) and Light Middleweight (Rawle Green, Buddy's) divisions.
Around the Web