The Enmore Athletics Club has formed an alliance with the Birth Athletic Club of Trinidad & Tobago for local sprint ace Kenneth Semple to spend a two-month training stint there.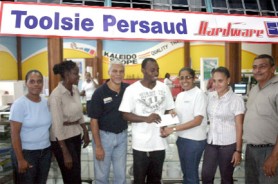 Additionally, the club's executive has named a six-member team to participate at the Mannie Ramjohn and Hampton International Games in T&T in the next two months.
Stabroek Sport understands that major emphasis is being placed on the 100m and 200m athlete Semple especially since he has been shortlisted by the Athletics Association of Guyana to compete at the CAC Games in Mayaguez, Puerto Rico, in July.
It is hoped that during his two-month stint in T&T with coaches Ashwyn Greed and Richard Ross the former national schools' champion will lower his personal best of 10.47s to 10.1s, which is the qualifying time for the CAC and the Commonwealth Games, billed for later this year in Delhi, India.
Semple is also expected to compete at the Brooklyn and Morvant Jets Games and the National Senior championships from May 29 to 30; June 19 to 20 and June 25 to 27 respectively in T&T.
When Semple spoke to Stabroek Sport recently he said that he aims to work "extremely hard" during training so that it may reflect in his timings at every meet he attends.
Semple will be working at the club where 2008 Olympic 100m silver medallist Richard Thompson and former Carifta and World sprint champion Darrel Brown once trained. Semple believes that the exposure of training and competing with some of the best athletes in that country will help when he participates at the more prominent IAAF events.
His coach John Martins said the club formed the alliance with the Birth training facility because it realised that for athletes to develop they needed to be in an environment where they could be pushed. He said that local athletes often train and compete among themselves and therefore there is no gauge to show true improvement.
He pointed out also that in many cases the proper systems are not in place to move an accomplished local athlete to a world class or even Caribbean star. He indicated that this was part of the rationale behind getting Semple and some of his best athletes to T&T.
On the other hand, Martins said when he got word from T&T he realised that it was going to be expensive for the small club to fund the trips. The cost for the six-member team to travel has come up to $740,000, and this also includes the registration fees for each athlete.
Martins said the club appealed to corporate Guyana and Toolsie Persaud Limited answered that call. Yesterday, at the hardware giant's store Manager Mohan Harnanan handed over a cheque of an undisclosed sum to Semple. Harnanan said he was pleased with Semple's resume and felt it was the company's duty to support the young athlete.
Last year, he said, the company responded when the East Coast Demerara based club sought assistance for Carifta silver medallist Ricardo Martin to compete overseas. Harnanan maintains that his company will continue to support athletes who have the potential to bring glory to the country.
Around the Web