The Pepsi Hornets Rugby Club dominated the day's events yesterday as the Guyana Rugby Football Union (GRFU) league got on its way at the National Park.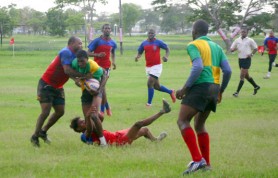 In their first game, Troy Bascomb and the Hornets were too good for the Yamaha Caribs securing a 21-7 win.
Bascomb scored two of the three tries with  Elwin Chase scoring the other after he ran past the Caribs defenders for almost the entire length of the field. Ryan Bascomb made good of all the Hornets' conversions.
For Caribs, Claudius Butts scored a try which was converted by Theodore Henry.
Hornets delivered a similar thrashing to the Guyana Defence Force (GDF) winning that encounter by 19 points to seven.
Troy Bascomb, Dane Parks and Peabo Hamilton scored one try each for the Hornets while the accurate leg of Ryan Hinckson delivered with two conversions.
In the other men's game, the Caribs held GDF scoreless on the way to a 19-0 whipping.
Butts, Walter George and Gordon Andrews secured a try each and Henry added two conversions.
In the female encounter the Caribs came out on top of the Hornets, winning two of their three games. The Caribs took the first game 24-5, but the Hornets ladies prevailed in the second 10-5.
None of the Hornets ladies were allowed to score in the last game which was dominated by Caribs' Lorelle Anderson who scored two tries while Andrea Lashley added one as Caribs won 15-0.
Around the Web