While most persons see the tough side of female boxer Shondell Alfred when she battles in the ring beneath that tough exterior lies a caring heart.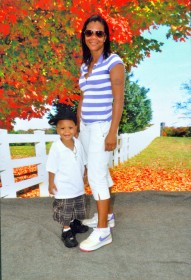 Though Alfred has chosen the rough and tumble sport of professional boxing as her career, she also has her softer side, a side that her three year-old son Cameron Alfred often sees.
Shondell Alfred, or the Mystery Lady, describes herself as being no different from all other mothers.
"It's good; it's so great being a boxer and a mother. I'm honoured to do that!" Alfred exclaimed.
"My son never misses any of my fights since he's been born he always there. He supports me, he even wants to be a boxer," she added flippantly.
Alfred made her professional debut on February 19, 1999 earning a decision over Stephanie George.
Wins over Sharon Johnson and Shondell Thomas followed as Alfred's career got off to a solid start.
But in her next two fights Alfred was forced to endure the bitter taste of defeat as she lost a fourth round TKO to Doris Hack and a second round TKO Lisa Brown.
Both fights took place in Canada with the former held at the Casino Nova Scotia in Halifax, Nova Scotia and the second bout being held at the Casino Rama in Ontario.
Back on home soil Alfred scored a first round TKO over Adanna Francis before moving on to Barbados where she secured another first round TKO over Vicki Boodram at the Sir Garfield Sobers Sports Complex in Wildey.
To date Alfred has secured 11 wins and five losses in her 16-fight career. Her last professional fight in September last year, saw her winning the vacant Women's International Boxing Association  (WIBA) bantamweight title.
The fight was one of Alfred's toughest to date and there was a bit of controversy when the decision was announced.
But although the WIBA has ordered a rematch Alfred is focused at the moment on a career bigger, tougher and more demanding than boxing – motherhood.
The 27-year-old bantamweight champion gracefully juggles motherhood with her rough cut, boxing career.
Speaking in an exclusive interview with Stabroek Sport, Alfred describes herself as being no different from all other mothers.
She beams with undisguised joy over her three-year-old son and stated that being a mother and a boxer are the two greatest joys in her life.
While most sons want to follow in the footsteps of their father for Cameron Alfred, it's all about mommy.
Alfred said that though her career was well underway by the time her son came along, his arrival was no hiccup.
A simple sabbatical to focus on her new born was all she needed before returning to the ring, this time with her son to proudly support her.
Alfred's career began at the age of 18.
It is a career that would bring her international recognition with three international titles under her belt to date.
Alfred confessed that she began boxing as nothing more than a past time but encouragement from family and friends saw the hobby germinating into a career.
Alfred notes that it was probably predestined "with boxing in my blood."
"Alfred's father Cecil `Koker Dog' Alfred was a tough, street savvy boxer who fought in the featherweight and lightweight divisions as an amateur. He also represented Guyana at a tournament in Jamaica; recalls referee/judge Eion Jardine.
He later turned professional.
"Boxing was in my family for a long period. Both my father and my uncle (Morris Alfred) were boxers, and my father got me into boxing," Alfred recalls.
"He took me up when I knew nothing about boxing, but I went to bring back the title for Albouystown," Alfred added referring to the fight that launched her career in 1999, when she was encouraged to represent her then hometown Albouystown to win back a title lost to Tiger Bay adversary  George. Alfred is expected to take on Corrine Van Ryck De Groot in a rematch on May 22.
Alfred will be defending her Women's International Boxing Association (WIBA) bantamweight world title belt.
Alfred said she is looking forward to the fight with De Groot declaring that she defeated her once and was certain she can repeat her triumph.
"I'm just out to get back my respect, but I beat her once and I will beat her again," Alfred confidently stated.
Around the Web